– NATO KILLED EX-GITMO SABAR LAL MELMA IN JALALABAD
–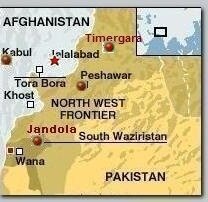 NATO-ISAF
forces say they have killed
Sabar Lal Melma,
a former Guantanamo detainee
,
 

who was a "key affiliate of the Al Qaeda network" in an overnight raid
, on Friday 09/02/2011,
in Eastern Afghanistan.
NATO says Sabar Lal Melma, born in 1962, organized attacks in eastern Kunar province and helped fund insurgent operations. They says he was in contact with senior Al Qaeda members in both Afghanistan and Pakistan. Troops surrounded Sabar Lal Melma's house in Jalalabad city (see also -Jalalabad 02.19.11 ).
NATO spokesman Capt. Justin Brockhoff says Melma came out of the building holding an AK-47 assault rifle and was killed. Several other people were detained.
A guard at Melma's house named Mohammad Gul says Sabar Lal Melma was released from Guantanamo about four years ago (mid 2010). Actually Sabar Lal Melma was repatriated on 09/28/2007, along with five other Afghans, a Libyan and a Yemeni captive.
According to an Administrative Review Board hearing in Guantanamo, probably in early 2005, Sabar Lal Melma was a Brigadier General in the Afghan military and a commander of 600 border security troops in Kunar, Afghanistan. He was appointed the title of Brigadier General due to his experience fighting against the Soviet Union and the Taliban in the Afghan civil war in the years 1989-98 and was affiliated to Gulbuddin Hekmatyar's network.
Sabar Lal Melma was suspected of assisting Al Qaeda members to escape from Tora Bora into Pakistan in 12/2001. He was a representative for the Kunar region Loya Jirga (Tribal Elders Council), on numerous occasions with ties to the Pakistani Intelligence – ISI.
Sabar Lal Melma denied having any knowledge of the attacks in the United States prior to their execution on September 11 and also denied having knowledge of any rumors or plans of future attacks on the United States. Sabar Lal melma reported being subjected to sleep deprivation in Bagram shortly after his arrest in early 2002.
On 06/15/2008 the McClatchy News Service published articles based on interviews with 66 former Guantanamo captives. McClatchy reporters interviewed Sabar Lal Melam. He claimed he had been an anti-Taliban fighter during their administration, that he suffered a gun-shot wound during his opposition to the Taliban, and that he had helped oust the Taliban during the American invasion.
* Related topics ;  
–
04/2011 –

ABDUL GHANI KILLED IN AFGHANISTAN

  
01/2009 -EX-

GITMO INMATES APPEARED ON JIHADI VIDEO

 
********************************
Read more ;