– SUICIDE BOMBER IN INDONESIAN CHURCH INJURED 20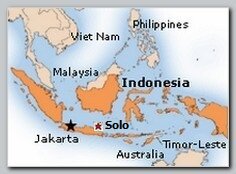 A suspected suicide bomber, on Sunday 09/25/2011,has detonated explosives in a church in Indonesia's central Java, injuring at least 20 people, according to an Indonesian radio station.
The attacker is believed to have died, a local police spokesman told El Shinta radio. Citing police and witnesses, El Shinta reported that the blast occurred just after the completion of services on Sunday at the Kepunton church in Solo town (see also – Christmas 2000).
"I can confirm that there was a suicide-bomb attack in Church Bethel Injil at 10:55 [am]," Djihartono, a central Java provincial police spokesman, said in El Shinta radio broadcast on Sunday.
"The body of the dead one, believed to be the suicide bomber, is lying in the main entrance."
Bambang Sumartono, an official at Dr Oen hospital, said that 20 people, including a child, were admitted to the hospital, but that many of them were only slightly injured.
 * Related topics ; 
******************************