AMERICAN KILLED IN KABUL'S CIA STATION
AMERICAN KILLED IN KABUL'S CIA STATION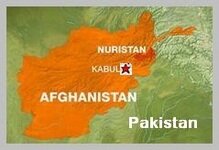 At least one US citizen and one attacker are reportedly killed after gunfire and explosions were heard at a compound believed to house the CIA station in the Afghan capital, Kabul on Sunday 09/25/2011 evening (see also – Khost 12.30.09).
A US official confirmed there was an incident at the facility previously known as the Ariana hotel – it is not clear if it happened inside or outside. The shootout comes just  two weeks after militants attacked the US embassy and government buildings in Kabul, leaving 25 dead (see – Kabul 09.13.11).
Washington blamed that 20-hour attack on the Sirajuddin Haqqani militant group and several senior officials later accused Pakistan's spy agency, the ISI, of supporting the group – a claim denied by Islamabad (see – Panetta Briefing 09.20.11).
Earlier this week, Burhanuddin Rabbani, the chief of Afghanistan's High Peace Council, was killed in a suicide bomb attack in the Afghan capital (see – Rabbani's Assassination).
A US embassy spokesman said that one American was killed as well as an Afghan employee who appeared to be behind the attack.
Afghan counter-intelligence sources earlier said at least one attacker was killed. The intelligence officials said that their personnel in the area had heard one explosion and gunfire which lasted nearly 10 minutes.
One source said: "The only thing we can confirm is they (the CIA) must have invited someone inside and he turned out to be an attacker. This is the only logical assumption."
The compound is located in the most secure part of Kabul – near the US embassy and NATO-ISAF military bases.
Meanwhile, a source in the nearby Afghan presidential palace said "After the explosion was heard, an Afghan National Army (ANA) vehicle was passing. CIA-employed guards opened fire on the vehicle, thinking it had attacked them."
The sources said that two ANA soldiers, one CIA guard and one presidential guard were injured.
* Related topics ;





09/2011 –AMERICAN DRONE CRASHED IN PAKISTAN






09/2011 –SUICIDE BOMBER WOUNDED 50 U.S TROOPS – KILLED 2









08/2011 –TALIBAN ATTACKED BRITISH SITES IN KABUL 

 
*******************************