– ROCKETS FROM LEBANON HIT WESTERN GALILEE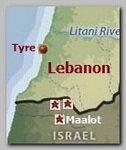 The Israeli IDF confirmed, on Monday 11/28/2011 night, that at least three Katyusha rockets have exploded in the Western Galilee near the border with Lebanon. No injuries were reported, but several structures sustained damage.
Meanwhile, police and IDF forces were checking whether a forth rocket landed in nearby communities.
The Jerusalem Post website said one rocket landed in Biranit, 700 metres from the Lebanese border. No damage was reported.
Two rockets landed in the Western Galilee town of Netua, causing minor damage, and police were searching for the fourth rocket in a wooded area just South of Maalot, also in Western Galilee.
Residents of the Western Galilee said they heard explosions in the region shortly after midnight on Tuesday. The head of one of the Western Galilee regional council noted that the explosion occurred in a steep slope with thick vegetation. "We're not going to go in there right now. Maybe we'll find it in the morning." He said.
Spokesperson's Unit reported that the military is responding with artillery fire on Lebanon. Israel filed an official complaint with UNIFIL, which is stationed on the Israel-Lebanon border.
—
* The launchers were found by the Lebanese army near the village of Ayta a-Shaab, not far from the Israeli border. Hizbullah denied any involvement in the fire. Radical Palestinian groups and Al-Qaeda inspired organizations, like Ansar al-Islam and Jund al-Sham, are active in South Lebanon and fired rockets toward Israel several times in the past. The incident was probably coincided with the anniversary of the UN resolution 181 of 11/29/1947 that decided to form two states in the West of the Jordan (Palestine) – one a Jewish state and the second an Arab State.
* Related topics ;  
–
11/2011 -HIZBULLAH'S WEAPONS DEPOT EXPLODED 
05/2011 -6 ITALIAN SOLDIERS WOUNDED IN LEBANON  
10/2009 -KATYUSHA ROCKET FIRED TO NORTHERN ISRAEL
****************************
Read more ;