ATTACKS IN IRAQ ON THE RISE
ATTACKS IN IRAQ ON THE RISE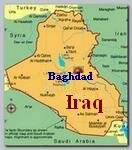 An explosion, on Monday 11/28/2011, in Baghdad's Green Zone that Iraqi officials at first attributed to a rocket that landed harmlessly in a parking lot was in fact a suicide car bomb that detonated at the entrance to the parliament building and killed five people, officials revealed Tuesday.

Earlier on Monday a suicide car bomber has killed 19 people at a prison gate near Baghdad, Iraqi officials say. They say at least 22 people were injured in the attack in the town of Taji, some 25km (15 miles) north of the capital (see also – Taji 07.04.11).
The attacker detonated the bomb at about 08:00 local time (05:00 GMT) at the main entrance to the Hout prison, officials said.
On Saturday11/26/2011, at least 15 people died and more than 20 were injured in a series of bomb explosions in and around Baghdad (see also – Baghdad 10.27.11).
Two days earlier, on Thursday 11/24/2011, bomb blasts in the southern city of Basra left at least 19 people dead and 65 injured (see also – Basra 01.14.11).
Violence in Iraq has declined from its peak in 2006-2007, but regular attacks by militants have raised concerns over whether the planned withdrawal of US troops – due to be completed by the end of this year – will lead to a worsening of the security situation.
Vice President Joe Biden arrived unannounced in Iraq, on Tuesday 11/29/2011, to mark the end of a controversial chapter of American history and the beginning of, what the Obama administration hopes, is a new partnership with Iraq after nearly nine years of war. It seems there is more wishful thinking in Biden's visit than practical reality (see also – Biden 08.31.10).
** The suicide bombing in Green Zone on Monday may have been an attempt to kill Prime Minister Nuri al-Maliki or some other senior political leader, officials said on Friday 12/02/2011. Two parliamentary guards were killed in Monday's blast, which officials initially said was caused by a mortar round. Two other people, including the parliamentary speaker, were injured.  
Major-General Qassim al-Moussawi, the Baghdad military spokesperson said on Friday that new intelligence pointed to an assassination attempt but that the investigation was still ongoing. "Intelligence shows the suicide bomber aimed to enter the building of the parliament and to stay in one of the parking lots until the prime minister … arrived at the parliament," he said.
Moussawi said the new information was based on confessions from members of what he called a terrorist group. They revealed that the bomb was supposed to go off when Maliki visited the parliament during an upcoming session, he said.
Aidan Helmi, a media adviser to Osama al-Nujaifi, the parliament speaker who was wounded in the blast, called the attack a botched "assassination attempt" on Nujaifi.
* Related topics ;





10/2011 –MULTIPLE CAR BOMBS KILLED 17 IN BAGHDAD






09/2011 -THE INGREDIENTS OF THE MIDDLE EAST









08/2011 –MULITIPLE BLASTS IN IRAQ KILLED DOZENS 

 
***************************
Read more