– SIX INDIAN ISLAMIC MILITANTS ARRESTED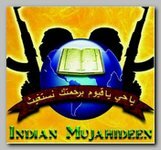 Delhi Police, on Wednesday 11/30/2011, claimed to have busted a major module of the homegrown INDIAN Mujahideen terror outfit by arresting six of its suspected activists, including a Pakistani national, for their alleged involvement in three attacks last year.
Two AK-47 assault rifles, a pistol and some explosives have been recovered from these Indian Mujahideen suspects, arrested last week.
Confirming the arrests, Home Minister P. Chidambaram said police were probing their possible involvement in the 02/13/2010 Pune German Bakery blast (see – Pune 02.13.10 ), 04/17/2010 Chinnaswami Stadium blasts in Bangalore and the Sep 19 Jama Masjid shooting and blast in 2010 (see – Delhi 09.19.10).
A Delhi Police spokesperson said 50 AK-47 cartridges, one 9mm pistol with 14 cartridges, five kilograms of explosives, five detonators, Rs.2 lakh in fake Indian currency notes, and some "incriminating materials" have been recovered from the arrested men.
Mohammed Qateel Siddiqi, 27, of Darbhanga in Bihar was arrested in the capital on 11/22/2011.He was allegedly carrying the pistol with live cartridges, two fake passports and Rs.2 lakh in fake Indian currency notes, police said. A forged identity card of the National Cadet Corps and a fake driving license in the name of Vivek Mishra were also recovered from him.
Mohammed Qateel Siddiqi allegedly told police that he was working for Ahmad Siddi Bappa alias Asif Bhatkal of Karnataka, who headed the module.
Bappa is also known as Imran and is wanted for allegedly masterminding the Pune German Bakery bombing that killed 17 people. Police said he recruited Siddiqi in the Indian Mujahideen in 2008.
Siddiqi's interrogation led the police to arrest Gauhar Aziz Khomani, 31, of Darbhanga in Bihar from Delhi the next day.
Gauhar Aziz Khomani, who was presently living in Delhi, was allegedly providing logistical and financial support to the module. He came to Delhi in 2007 and got in touch with Bappa and joined the Indian Mujahideen in 2008.
Searches were conducted in Madhubani of Bihar that led to the arrests of Gayur Ahmad Jamali, 21, and Mohammed Adhil alias Ajamal, 40, of Karachi in Pakistan (see – Karachi-Project). Pakistani national involved, Mohammed Adhil, was found to be an active operative of the Jaish-e-Mohammed terror outfit.
The Pakistani national was at present residing in Madhubani, the spokesperson said. He came to India in August last year (2010).
Two more members of the Indian Mujahideen, Mohammed Irshad Khan, 52, and Abdur Rahman, 19, were arrested on Sunday 11/27/2011 from Chennai. They too are Bihar residents. But Khan had been living in Delhi and Rahman in Chennai.
Rahman met Bappa about four months ago when he joined the Indian Mujahideen. He used to provide hideouts and other support to the module members, according to police. Police said Khan became a "close" associate of Bappa after he joined the module in 2009.
Investigations also revealed that this particular module was planning a major explosion in Bengaluru to mark the December 6 anniversary of the Babri Mosque demolition in 1992.
* Mohammed Qateel Siddiqi was found dead inside Pune's Yerwada Jail, on 06/08/2012. While Siddiqui's cousin claimed the Maharashtra ATS had bumped off his brother, a Delhi Police officer suggested the hand of underworld don Chota Rajan in the murder. Either Siddiqui's proximity to IM chief Yasin Bhatkal, the officer said, or his alleged role in targeting a temple may have led to his killing (see  also – Riyaz Bhatkal).
* The authorities in Saudi Arabia confirmed, on 07/01/2012, they have arrested Fasih Mehmood, another Indian Mujahideen suspect in the case.
* Related topics ;
–
10/2011 –INDIA CLAIMS TO FOIL PAKISTAMI RELATED TERROR PLOT
09/2011 –12 KILLED IN DELHI HIGH COURT BLAST
07/2011 –2 INDIAN MUJAHIDEEN ARRESTED IN MANKHRUD, MUMBAI
10/2010 –INDIAM MUJAHIDEEM THREATS BIOLOGICAL WAR  
******************************
Read more ;