– ANOTHER 31 KILLED IN A BAGHDAD BLAST
–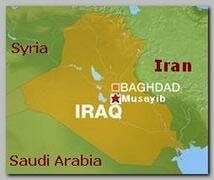 A car bomb, on Friday 01/27/2012, has killed at least 31 people and reportedly injured scores in a district of the Iraqi capital Baghdad, Iraqi officials said. A doctor told AFP news agency the device had exploded near a funeral procession outside a hospital in the east of the city (see also – Baghdad 12.22.11).
An interior ministry official said a suicide attacker had set off the explosives at 11:00 (08:00 GMT).There has been a rise in attacks in Iraq since US troops left last month.
The blast in the Zafraniyah district hit the funeral procession of Mohammed al-Maliki, an estate agent killed along with his wife and son a day earlier in the west Baghdad neighbourhood of Yarmuk, AFP's sources said.
Details of how he, his wife and son died were not given but according to an earlier AFP report, at least three people were killed by gunmen in an attack on an estate agent in Yarmuk on Thursday 01/26/2012. Thirteen people were also killed in bomb attacks on Thursday.
Two brothers – both policemen – and at least eight of their relatives were reported to have been killed after insurgents bombed a house in Musayyib in the south of Baghdad. Three people were also killed in Kirkuk in a separate bomb attack (see also – IRAQI CONCERN).
* Related topics ;  
01/2012 -DETERIORATION IN IRAQ GOES ON

01/2012 -DEADLY BLASTS ROCKED IRAQ AGAIN

01/2012 -THE CASE OF ALI MUSSA DAQDUQ
*****************************
–