POLICE STATION IN KANO, NORTHERN NIGERIA, ATTACKED
POLICE STATION IN KANO, NORTHERN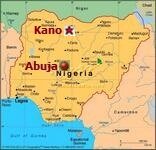 Gunmen have attacked, on Monday 02/06/2012, a police station with explosives and automatic weapons in Kano, two weeks after a major assault in Kano killed about 200 people (see -Kano 01.19.12).
A senior police officer said on Monday that the police station in Kano's Sharada neighbourhood had been burned down by attackers armed with explosives, who also shot one officer in the leg. "The gunmen came from different directions to attack the Sharada industrial estate police station with bombs and gun shot some minutes after 6pm," Kano police spokesman
Magaji Musa Majiaa
told the Reuters news agency by telephone.
The gunmen were suspected of belong to the radical Islamist group Boko Haram. The group has claimed to have carried out a series of recent attacks in Africa's most populous nation,
Boko Haram is waging a low level insurgency against the government and says it wants to impose Islamic law across the country of 160 million people split evenly between Muslims and Christians.
Nigerian secret service sources said they arrested Abu-Qaqa, the purported spokesman for the group, on Wednesday 02/01/2012, although a man claiming to be him telephoned journalists from Maiduguri
to deny it
.
In a phone conference with journalists in the northeastern city of Maiduguri on Thursday, Boko Haram said that Abu Dardaa, the group's head of "public enlightenment", was arrested and not spokesman Abu Qaqa.
* A day later, on Tuesday 02/07/2012, A suspected suicide bomber disguised in military uniform was killed when his car bomb exploded under fire from soldiers outside a military base in the northern Nigerian city of Kaduna, the army said. Kaduna is the birthtown of

Umar Abdulmutallab.
Tuesday's violence was the latest in a series of attacks on military and other targets to have hit northern regions of Africa's most populous nation in the past months – the last being an attack on two police stations in Kano as well as a recently renovated market in Maiduguri, Borno State (see also – Maiduguri 06.26.11).
* Related topics ;
01/2012 -NIGERIAN CHRISTMAS DAY BOMBER ESCAPED POLICE

12/2011 -25 KILLED AS CHURCHES ATTACKED IN NIGERIA

11/2011 -BOKO HARAM KILLED 63 IN NIGERIA




08/2011 -18 KILLED IN ABUJA UN BILDING BOMBING 

*****************************