– HARUN JALJALIS – ABU INDAL – ARRESTED IN THE PHILIPPINES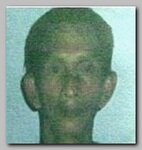 An alleged member of Abu Sayyaf in Basilan, Harun  Jaljalis alias "Abu Indal", who is wanted for at least four kidnapping with serious illegal detention cases, was arrested early Thursday 02/02/2012, alongside
Sonny Bakim Barahim
alias
Abu Ismael
authorities said. Harun  Jaljalis was arrested in the southern island of Basilan
(see –
Basilan 02.27.10 ).
Criminal police investigation gtoup Regional Chief Senior Superintendent
Generoso Bonifacio
said among the cases Harun  Jaljalis is implicated in are the Dos Palmas Palawan Hijacking, Lamitan siege, and Sipadan Hijacking. A P350,000 bounty was offered by the government for Harun Jaljalis arrest.
Bonifacio said Harun  Jaljalis is considered one of the most wanted persons nationally and is a hard-core member of the Abu Sayyaf Group under the leadership of then-ASG commanders Khadafy Janjalani, Suhud Tanajalin and Aldam Tilao alias "Abu-Sabaya."
The suspect, however, denied knowing the ASG top brass, saying he was never involved in any of their activities.
Bonifacio said they will be presenting Harun  Jaljalis to at least two witnesses under the Department of Justice (DOJ) Witness Protection Program, before turning him over to the court that issued the warrants for his arrest. 
* Related topics ; 
****************************