AMERICAN SHOT DEAD IN TAIZ, YEMEN
AMERICAN SHOT DEAD IN TAIZ, YEMEN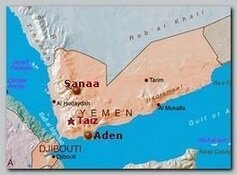 An American language teacher has been shot dead by gunmen in Yemen's second city of Taiz, officials said on Sunday 03/18/2012.
.
He is reported to be deputy director of a Swedish language centre in the city. The teacher was driving to work on Sunday morning when he was fired on by gunmen on a motorbike, officials said. The teacher had been living in Taiz along with his wife and two children for at least two years, the local Yemeni Governor said. According to another Yemeni official, who spoke on the condition of anonymity because the investigation is continuing, the teacher worked for a vocational institute for people with disabilities that was established by the Swedish Free Mission, a charitable organization largely financed by churches.
The Al Qaeda-linked militant group Ansar al-Sharia (Soldiers of Shariaa) said it carried out the attack "in response to a Western campaign to preach Christianity among Muslims".
Taiz, some 270km (173 miles) south-west of the capital Sanaa, has been a major centre of opposition to Yemen's courent leadership, but has not experienced the same level of militant activity as other parts of the South (see – MEAS"T INGREDIENTS).
A Swiss woman, also believed to be a language school teacher, was kidnapped on Wednesday 03/14/2012 in the coastal city of Hodeida, and is reportedly being held in in Shabwa province, which neighbours Abyan province (see – Abyan 03.04.12).
* Related topics;





12/2011 -10 AL-QAEDA TUNNELED OUT YEMENI ADEN JAIL






11/2011 -3 FRENCH HOSTAGES FREED IN YEMEN






***************************