YEMEN'S AL QAEDA MEDIA CHIEF IBRAHIM AL BANNA KILLED
YEMEN'S AL QAEDA MEDIA CHIEF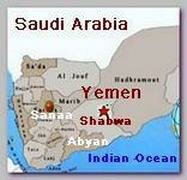 The media chief for Al-Qaeda in the Arabian Peninsula
Ibrahim al-Banna
has been killed along with 23 other people, on Friday 10/14/2011 night, in an air strike in southern Yemen, according to the Yemeni defence ministry. Some sources said the son of Anwar al-Awlaki, Abdul Rahman,
was also killed in the airstrike.
The ministry said in a statement on Saturday that Egyptian-born Ibrahim al-Banna was killed on Friday night in Shabwa province (see also – Shabwa 05.05.11). Security officials said the air strike was among five that targeted Al Qaeda positions in Shabwa. Ibrahim al-Banna was already arrested in Yemen in summer 2010, after he arrived to Yemen from Iraq but later managed to escape the Yemeni jail,probably alongside dozens other militants, on 06/22/2011 (see – Mukalla 06.22.11).
The statement added that Ibrahim al-Banna was wanted "internationally" for "planning attacks both inside and outside Yemen. "He was one of the group's most dangerous operatives," it said.
Separately, a gas pipeline serving fields in the Al-Hadhina district, just two kilometers from the Balhaf terminal on the Gulf of Aden was ablaze on Saturday after an overnight rocket-propelled grenade attack, a Shabwa provincial official told AFP. "Following the attack, operations were halted in several parts of the terminal," the official said without elaborating.
There was no immediate claim for the attack but the provincial official said he thought it was likely to have been an Al Qaeda attack carried out in retaliation for the air strikes in Shabwa.
* Related topics ;





09/2011 -CHAOS IN THE MIDDLE EAST









06/2011 -MILITANTS SEIZED ANOTHER VILAGE IN SOUTHERN YEMEN






05/2011 -ZINJIBAR IN SOUTH YEMEN SIEZED BY MILITANTS






10/2010 -HISHAM ASSEM SENTENCED TO DEATH IN YEMEN  
************************************


ARMIESOFLIBERATION