– SWISSERLAND STICKS WITH ITS VALUES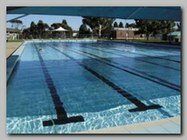 A Muslim family in Basel has been fined 1,400 francs ($1,550), on Tuesday 03/27/2012, for refusing to let its daughters participate in mixed swimming classes.
The family had sought to avoid paying the fine on the grounds that the requirement for the girls to join the swimming lesson infringed on their religious freedom, online news website Le Matin reported.
The parents argued that, in accordance with the teachings of the Koran, they wanted to instil a sense of shame in their children before they reached puberty. Mixed swimming lessons in primary school, the family claimed, would be incompatible with such an aim (see – Cultural Conflict).
Following the family's appeal of the original Administrative Court verdict, the Federal Court decided to uphold the fine. The court stated that the obligation to participate in mixed swimming classes did not represent a significant assault on the family's religious freedom. The upper court said it agreed with the Administrative Court's view that there was a "substantial public interest that all children take swimming lessons (see – Minarets Ban).
*Related topics ; 
02/2012 -DEATH THREAT IN BELGIUM FOR SLAMMING ISLAMIC CODE

11/2011 -EUROPEAN CULTURAL ISLAMIC CONFLICT

06/2011 -WILDERS ACQUITED OF HATE CRIMES

02/2011 -CHANGE OF WIND IN EUROPE

07/2010 -FRANCE BANS FULL VEIL
******************************
Read more ; 
THELOCAL
ABNA.IR