– 2 MORE SUSPECTS OF 2008 AHMEDABAD BLASTS ARRESTED
–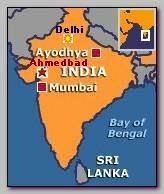 Two more terror suspects Akheel Khilji and Mohammed Jafar Hussain Qureshi , were arrested from their hideout in Buldhana district of Maharashtra on Tuesday 03/27/2012, a day after state Indian ATS (Anti Terror Squad) apprehended a man wanted in 2008 Ahmedabad Bombings following the gunning down of his accomplice in an encounter in Aurangabad.
Akheel Khilji (45) and Mohammed Jafar Hussain Qureshi (32), former members of banned outfit Students Islamic Movement of India – SIMI, were apprehended by ATS from their rented house at Pimpalgaon village in Buldhana in central Maharashtra, police said. A 7.65 mm pistol, five live rounds, documents related to two bank accounts in Madhya Pradesh of Akheel, who used to head Khandwa's SIMI unit, and documents were recovered from them, police said.
The duo, booked under Unlawful Activities Prevention Act (UAPA), have close links with home-grown terror outfit INDIAN Mujahideen -IM, police claimed.
Akheel Khilji is the father of Mohammed Shakeer, who was arrested yesterday along with Mohammed Abrar Babu Khan (32), suspected to be involved in the Ahmedabad blasts that claimed 56 lives. Their aid Khaleel Qureshi (20) was shot dead in an exchange of fire in Aurangabad, central Maharasthra. The trio was also plotting to kill two of the three judges of the Allahabad high court who had delivered the verdict on the Ayodhya title dispute in September, 2010, informed ATS sources said (see  – Ayodhya Report).
The arrested persons, according to police, had carried out a spate of bank robberies in Madhya Pradesh and used the money for terror funding. "The gang had also spent the money on legal expenses of their aides who are behind the bars now," a police officer said.
The Madhya Pradesh-based gang, earlier headed by Abu Faizal, a former member of the Students Islamic Movement of India – SIMI, had been trying to set up a base in Maharashtra. Its members had been staying under bogus names in rented houses in Aurangabad, Jalna and Buldhana districts, he said.
Police said IM's key operative Abdul Subhan Qureshi alias Tauqueer, wanted in several terror cases, had been given shelter for four to five months in 2008 by Abu Faizal who was nabbed in June last year by MP Police.
Abdul Subhan Qureshi – Tauqueer was one of the speakers at the terror training camp organised in Kerala where some of these gang members had undergone training in 2008, police said.
Abu Faizal, Abrar Khan and Akheel Khilji were also closely associated with another IM key operative, Safdar Nagori, police said.
After Abu Faizal's arrest, the gang was headed by Akheel Khilji and Abrar Khan who bought a flat in Jamshedpur (Jharkhand) for Rs 15 lakh, which they got after selling part of the 12kg gold they had looted from a gold finance company in MP.
* Mohammed Abrar has reportedly told interrogators from the Maharashtra Police that Riyaz Bhatkal, alleged to be killed in Karachi 3 months earlier and is believed to be hiding in Karachi, had hatched a plot to collect funds in order to kill police chief
Mohan Bhagwat.
* Related topics ; 
12/2011 -

9 CHARGED IN INDIA OVER 11/2008 MUMBAI CARNAGE

10/2011 -INDIA CLAIMS TO FOIL PAKISTAMI RELATED TERROR PLOT
********************************
Read more ;