– LORD NAZIR AHMED SUSPENDED FROM U.K'S LABOUR PARTY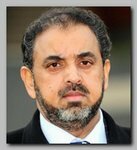 * Lord Nazir Ahmed suspended by the party over reports that he offered a £10m "bounty" for the capture of USA president Barack Obama has denied, on Monday 04/16/2012, making the remarks.
Lord Nazir Ahmed was born in Pakistani Kashmir (Azad Kashmir) in 1958 to a local welthu and well positioned family and arrived to UK in 1965 when his family emigrated to UK. He attended Spurley Hey Comprehensive school, then Thomas Rotherham Sixth Form College. He studied Public Administration at Sheffield Hallam Univesity and joined the Labour Party when he was 18 years old.
Nazir Ahmed began his political career as a local councillor, with most of his activity centred around the North of England. He founded the British Muslim Councillors' Forum in 1992. Nazir Ahmed chaired the South Yorkshire Labour Party for some years.
In 1998 Nazir Ahmed was appointed to the House of Lords, becoming the first Muslim life peer as Baron Ahmed, of Rotherham in South Yorkshire. Lord Ahmed took his oath on the Quran. He was also one of the youngest peers to achieve this position. As a Muslim peer, much of his activities relate to the Muslim community, both at home and internationally. Ahmed led one of the first delegations on behalf of the British Government on the Muslim pilgrimage of the Hajj to Saudi Arabia and has advocated legislation against religious discrimination, international terrorism and forced marriages.
However, in 02/2005, he hosted a book launch in the House of Lords for the controversial Swedish writer Israel Shamir. (Israel Shamir is Jewish Swedish writer originally from Russia who lived some time in Israel. Despite being a jew Shamiir was banned for a time in France over allegations of antisemitism). In a latter Lord Ahmed claimed, among other things: "The Jews like an Empire… This love of Empire explains the easiness Jews change their allegiance… Simple minds call it 'treacherous behaviour', but it is actually love of Empire per se (see also – Jewish Blame)." Although this invitation raised some controversy, Ahmed firmly refused to discuss the matter.
In 06/2007 Lord Nazir Ahmed criticised the honouring of Salman Rushdie with a knighthood because of what Lord Ahmed saw as Rushdie's offensiveness to Islam. in 11/2007 Lord Ahmed was involved in a diplomatic effort to secure the release of teacher Gillian Gibbons from custody in Sudan after she allowed her class to name a teddy bear Muhammad (see – Meas"t 11/2007).
In 2009, he was jailed for 12 weeks for dangerous driving after texting at the wheel before a fatal car crash.
According to the Pakistani Express Tribune newspaper, on Sunday 04/15/2012, Lord Nazir Ahmed a a reception in Haripur, Pakistan, on 04/10/2012 offered a 10$ millions"bounty" in cash or the capture of Barack Obama and his predecessor George W Bush. He added that Mr Bush and ex-Labour prime minister Tony Blair should be prosecuted for war crimesLord Ahmed also said that when the conditions worsen (in the USA), the responsibility had to be put on somebody's shoulder and Iran was likely to be attacked by the US or Israel in order to get votes. The war, he said, was not only dangerous for the Western countries but Shia-Sunni disputes would also be fanned in the Muslim countries through conspiracy.
Lord Nazie Ahmed allegedly nade the comment in response to an American reward for the capture of a prominent Pakistani radical Hafiz Muhammad Saeed blamed to be the mastermind of the 11/2008 Mumbai Carnage. Hafiz Muhammad Saeed is considered by USA as one of the top ten most dangerous terrorists in the world and in the epicenter of ongoing tension between Pakistan and USA (see – Ambiguous Ties). The Pakistani newspaper said Lord Ahmed called the US bounty on Saeed "an insult to all Muslims".
Lord Ahmed complained that party chiefs had not spoken to him before announcing the move and challenged the party to produce evidence against him. Asked about the reported comments, he said: "I never said those words. "I did not offer a bounty. I said that there have been war crimes committed in Iraq and Afghanistan and those people who have got strong allegations against them – George W Bush and Tony Blair have been involved in illegal wars and should be brought to justice.
A Labour spokesman said: "We have suspended Lord Ahmed pending investigation. "If these comments are accurate, we utterly condemn these remarks which are totally unacceptable.
* Related topics ; 
03/2012 -SYSTEM IN MADNESS

04/2011 -U.K'S STANDARDS

04/2011 -LONDON'S TALIBAN

LONDONSTAN 
**************************
–