THE TALIBAN 2012 "SPRING OFFRNSIVE'
MAJOR TALIBAN RAIDS ON KABUL AND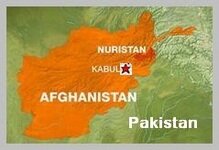 Militants,, on Sunday 04/15/2012, were carrying out what they say are co-ordinated attacks on Kabul and other targets in Afghanistan. A Taliban spokesman said fighters were attacking embassies in the diplomatic enclave, NATO-ISAF's HQ and the parliament building in the west of the capital Kabul. Multiple blasts and gunfire have been heard across Kabul.
The Taliban spokesman Zabiullah Mujahid said there were also attacks in Logar and Paktia provinces. There are also reports of suicide attacks in Jalalabad. NATO said it had reports of attacks in seven locations in Kabul but there were no reports as yet of any casualties.
At least seven large explosions were heard in central Kabul and gunfire erupted from various directions in the heavily barricaded diplomatic zone. Residents were reportedly running for cover and sirens wailing in the Wazir Akbar Khan district. Some explosions were also heard near the parliament building in western Kabul and police said it was under attack.
A parliamentary spokesperson told Reuters rockets had been fired at parliament and the Russian embassy. Smoke was said to be billowing from the direction of the German embassy.
A rocket-propelled grenade was fired into a house used by British diplomats, witnesses told Reuters, with two rockets also hitting a British embassy guard tower. The Agence France-Presse news agency reports that the newly built Kabul Star hotel is on fire.
Its reporters said they heard the US embassy sounding alarms and warning staff to take cover.
There are also reports of a suicide attack that has closed the centre of the eastern city of Jalalabad. Police said suicide bombers had attacked the airport there.
There is normally a surge in the number of Taliban attacks at this time of year following a relative lull in winter, when militants find it more difficult to move around. Kabul is generally well protected and a relative safe place but the city is also a target of Taliban's coordinated multiple raids every few months. The last such major attack in Kabul, in which 13 American personnel were killed, occurred on 10/29/2011 (see – Kabul 10.29.11).
Sixteen Afghan soldiers have been arrested after the discovery of 11 suicide vests, on Tuesday 03/27/2012, found inside the ministry of defence headquarters in Kabul (see – Kabul 03.27.12).
The attacks came a day after Salahuddin Rabbani, the son of the former chief peace negotiator with the Taliban Burhanuddin Rabbani, who was killed by the Taliban in his home on 09/20/2011 (see – Rabbani's Assassination), was appointed by President Hamid Karzai to succeed his father as the chief peace envoy in Afghanistan.
The Enigmatic-Peace with the Taliban suffers extreme difficulties as one negotiator
Mohammad H. Munib
was assassinated in Kunar province, on 04/06/2012, and another negotiator
Abdul Salam Zaeef
fled to Dubai in the UAE in late 03/2012 (see – UN 07.30.10).
* Sources in Afghanistan said on Sunday evening at least 17 gunmen and one police officer have died. 23 other security personnel were wounded. Afghan police also arrested 15 would-be suicide bombers in northern Afghanistan, who were trying to launch attacks in Kunduz province. There were reports of the arrest of suicide bombers in other areas.
It was the biggest attack in Kabul since the Taliban were overthrown in 2001.reporters have been told that 19 suicide bombers have blown themselves up or been killed and another 17 have been arrested only in Kabul, according to Afghan security officials. Outside the capital on Sunday, attackers also targeted government buildings in Logar province, the airport in Jalalabad, and a police facility in the town of Gardez in Paktya province.
Altogether more than 20 suicide bombers blew themselves up and at least dozen more were captured by Afghan security forces – an unprecedented number of suicide bombers to be used in one single attack in Afghanistan or elsewhere.
Fighting resumed in Kabul the next day, Monday 04/16/2012 as Afghan and NATO forces attempted to displace the attackers from the buildings they had occupied near the parliament and the Star Hotel. A Taliban spokesman said the violence marked the start of their annual spring offensive which heralds the fighting season, adding that "a lot of suicide bombers" were involved.
* President Hamid Karzai on Monday 04/16/2012 evening has linked Sunday's militant attacks to intelligence failures, especially on the part of NATO. He praised the performance of the Afghan security forces. He said they had proved themselves capable of defending their country.
Officials said 51 people died in the fighting in Kabul and elsewhere: four civilians, 11 members of the security forces and 36 insurgents.
* The Taliban assailants who waged daring co-ordinated attacks across Afghanistan on Sunday were part of a 200-member suicide squad, a lone suspected attacker captured by Afghan forces has reportedly confessed. As new details emerged about the attacks, which included an 18-hour siege on key Kabul neighbourhoods, a senior Afghan intelligence officer said that the captured attacker had admitted to being part of a larger team tasked with waging similar operations ahead of a major NATO summit on Afghanistan in Chicago.
The team, which includes Afghan and Pakistani suicide bombers, was trained by Badruddin Haqqani, one of Jalaluddin Haqqani's sons, in Miranshah, Pakistan, according to the suspect (see also- Miranshah 08.10.11).
* Related topics ;


03/2012 -ROGUE AFGHAN PERSONNEL KILLED 3 NATO TROOPS

03/2012 -U.S SOLDIER KILLED MANY AFGHAN CIVILIANS

03/2012 -5 TALIBAN TO BE TRANSFERRED FROM GITMO TO QATAR

******************************