3 ISLAMIC MILITANTS ARRESTED IN GADIZ, SPAIN
3 ISLAMIC MILITANTS ARRESTED IN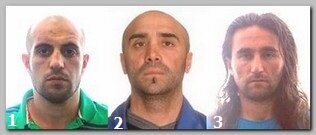 Spanish police have arrested, on Thursday 08/02/2012, three suspected members of Al Qaeda in the southern province of Cadiz, a judicial source has told the AFP news agency.
Spanish radio station Cadena Ser on Thursday cited police sources that said the suspects were two Chechens and a Turk and were in the possession of explosives and poison when they were arrested.
Spanish Interior Minister
Jorge Fernandez Diaz
in a news conference said: "There is a clear indication that those arrested could have been planning an attack in Spain or in Europe".
Fernandez Diaz did not disclose the identities of the three, but said two were suspected Al Qaeda operatives while the Turk was a facilitator. He described one operative as a key member of the terror network, and said both operatives had practiced flying in light aircraft. One was an expert in explosives and poisonous substances, he said.
Two of the suspects were travelling in a bus towards France when they were arrested in a lay-by at Valdepenas by a police special operations group near Almuradiel, according to
El Pais
. The Turkish man was reportedly arrested in a flat near La Linea de la Conception, in San Roque, where the group was storing explosives. It is reportedly the first time such suspects have been found with explosives.
Police suspect at least one of those arrested has attended training camps in Pakistan, reports say.
Al-Qaeda in the Arabian Peninsula – AQAP had issued a message at the beginning of July looking for Spanish-speaking "lone wolves" as operatives, according to Spain's El Pais newspaper.
The judge, on Friday 08/03/2012, jailed the Turk suspect,

 identified as

Cengiz Yalcin

,

(No' 2) accused of being an Al Qaeda operative for "possession of explosive substances and devices with terrorist aims", but did not agree with prosecutors that the man belonged to a terrorist group, the source said.The Turkish man's lawyer said his client, who denied all charges against him, is an engineer for a multinational company who has lived in Gibraltar for seven years and has legal residence in UK.
The two Chechen suspects also accused of belonging to Al Qaeda are currently being held for questioning while police continue their investigation.
The Spanish Interior Minister told reporters on Friday that the Turk Cengiz Yalcin had befriended the two Chechen suspects in Turkey and that they had come to Spain for the purpose of seeking asylum, the Spanish El Pais newspaper reported.
The two Russian suspects from Chechen descent
Eldar Magomedov
, who also goes by the name
Ahmad Avar
(No' 1), and
Mohamed Ankari Adamov
(No' 3), suspected of plotting a terror attack in Europe have been charged in Spain, on Monday 08/06/2012, with belonging to an unnamed terror organisation and possession of explosives, and placed under indefinite detention (see also – Maryam Magomedov).
Authorities in Spain released a video, on Saturday 08/11/2012, that they claim shows suspected al-Qaida members training for a bombing raid using a model plane, the latest development in a case that has led to the arrests.
The two Russian Chechens took paragliding lessons this year in a southern Spanish region renowned for the sport, authorities said over the weekend. A Turkish engineer also under arrest paid for the lessons. Spain's Interior Ministry declined comment on whether investigators believe Eldar Magomedov and Mohamed Ankari Adamov were using the paragliding lessons to train for an attack. But analysts said the allegation in court paperwork that they took the lessons is almost certainly a key line of investigation.
———————————————-
* Paragliding did feature in one recent stunt by an environmentalist that must have given chills to authorities.
The activist was arrested in May after dropping a billowing smoke bomb onto the roof of a French nuclear reactor. Video footage captured the airborne activist on a motorized paraglider after he dropped the smoke bomb, circling the reactor before making a wobbly descent to the ground with his glider's parachute-like wing emblazoned with "Greenpeace."
Paragliding was banned in and around New Delhi during the 2010 Commonwealth Games "to provide security against any sort of terror attacks," said police spokesman Rajan Bhagat. And authorities in Denmark banned allowing paragliders from flying above Copenhagen in 2009 when the International Olympic Committee met to pick the winner of the 2016 Summer Games.
*

Ahmad Avar

and

Mohamed Ankari Adamov

were released in April 2013 for lack of evidence. The Turk suspect was also released later without charges. 
* Related topics ;








09/2011 -ABDELLATIF AOULAD CHIBA ARRESTED IN SPAIN






09/2011 -FBI WARNS OF SMALL AIRPLANES TERROR ATTACKS






12/2010 -8 ARRESTED IN SPAIN LINKED TO ISLAMIC TERROR






08/2010 -AN AFGHAN RECRUIT KILLED 2 SPANIARDS
********************************