OVER 45 KILLED IN YEMEN SUICIDE BOMBING
OVER 45 KILLED IN YEMEN SUICIDE BOMBING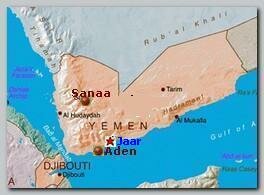 A suspected suicide bomber, on Sunday 08/05/2012, has struck a village in the southern Yemeni province of Abyan, killing more than 45 people. Dozens more were wounded in the attack on a funeral service in the city of Jaar, Yemeni officials said (see also – Jaar 03.28.09).
Military officials told the Associated Press the funeral was for a man linked to militias which had helped the army in their fight against local Al Qaeda. They said five suspected Al Qaeda militants had been killed earlier in the day. The men were killed in a suspected US UAV drone strike on their vehicle in Hadramawt province.
A witness told the AFP news agency that "the suicide bomber belonged to the al-Qaeda network". The Yemeni army carried out a major offensive against Islamist militants in Abyan earlier this year, taking control of the region in June with the help of civilian militias comprised of local tribesmen (see – Abyan 03.04.12).
Separatist unrest and Al Qaeda-linked militants such as Ansar al-Sharia have plagued the south for years.
* Related topics ;


07/2012 -IRANIAN SPY RING UNCOVERED IN YEMEN

07/2012 -SUICIDE BOMBER KILLED 9 AT SANAA POLICE ACADEMY

07/2012 -YEMEN CLAIMED THEY FOILED PLOT AGAINST FOREIGN EMBASSIES

05/2012 -SANAA SUICIDE BOMBING KILLED 96 YEMENI TROOPS 
*********************************************