MAHER ASSAD IN CRITICAL CONDITION
MAHER ASSAD IN CRITICAL CONDITION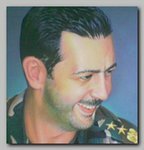 Russia's Deputy Foreign Minister
Mikhail Bogdanov
told a Saudi newspaper, on Tuesday 08/14/2012, that
Maher Assad
, President
Bashar Assad
's brother, lost both his legs in the Damascus bombing last month and has been fighting for his life ever since (see – Gen' Daoud Rajiha). Maher Assad's presence in the building was previously unknown. Maher Assad, who is the commander of Syria's frightening 4th Division and the Republican Guards in charge of protecting the capital Damascus, lost his legs and suffered life-threatening injuries to his lower body in the explosion. The 4th Division is the most trusted unite in the Syrian army loyal to Assad's regime.
Mikhail Bogdanov said that the attack has driven Syria further into chaos and that Assad is ready to step down.
after an 18-month uprising, Syrian President Bashar Assad is willing to relinquish his power, Russia's Deputy Foreign Minister Mikhail Bogdanov told Saudi paper Al-Watan. Bogdanov said that what's needed now is a way to ensure a smooth transition of powers (see – SYRIAN DILEMA).
Western diplomat and a Gulf-based source said, on Thursday 08/16/2012, "We heard that he (Maher al-Assad) lost one of his legs during the explosion, but don't know anymore," the diplomat told Reuters.
* Related topics ;


07/2012 -AL-NUSRA CLAIMED RESPONSIBILITY FOR ATTACKS IN SYRIA

************************************