– 17 BEHEADED IN AFGHANISTAN VIOLENCE
–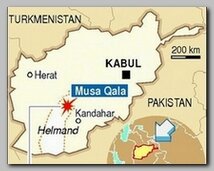 Seventeen civilians have been beheaded by Taliban insurgents in southern Afghanistan, government officials said on Monday 08/27/2012.
.
The bodies of two women and 15 men were found by the side of a road in the Mussa Qala district of Helmand province, once already liberated by British troops and recaptured by Afghan troops in 12/2007. Meanwhile, 10 Afghan army soldiers have been killed in a Taliban attack in the same province.
In eastern Afghanistan, two foreign soldiers – believed to be Americans – have been shot dead in Laghman province by a rogue Afghan soldier, an event which became very frequent recently and is disrupting any trust and cooperation between NATO-ISAF ("blue") and the Afghan army ("green"). Such attacks have now killed a total of 42 foreign troops this year alone (see – Afghan-Trend).
The bodies of the 17 civilians, which were discovered on Monday morning, were said to show signs of beatings. Some had gunshot wounds. Local officials said the men had gathered to listen to music and watch the women dance when they were attacked. The Taliban disapprove of men and women mixing socially. "I can confirm that this is the work of the Taliban," the Helmand provincial governor's spokesman, Daud Ahmadi, told AFP news agency. "Two women and 15 men were beheaded. They were partying with music in an area under the control of the Taliban," he added.
The 10 Afghan army soldiers were killed in a massive attack by the Taliban on their checkpoint in southern Helmand on Monday morning. As many as 200 insurgents were involved in the assault, 11 of whom were killed.
The Taliban claim responsibility for many of the attacks, but NATO says other issues – including cultural differences and personal animosities – are behind many incidents.
Currently, approximately 130,000 NATO troops are fighting insurgents in Afghanistan alongside 350,000 Afghans. Nato forces are due to withdraw combat troops in Afghanistan by the end of 2014, with only training troops remaining (see – Petraeus W Plan ).
* Related topics ;  
–
08/2012 -DEEP INFILTRATION 
08/2012 -TALIBAN'S VICTORY  
08/2012 -11 TROOPS KILLED IN HELICOPTER CRASH IN AFGHANISTAN 
**************************
Read more ;