– THE AFGHAN TREND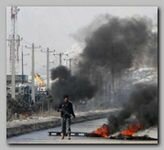 Two NATO-ISAF officers have been killed, on Saturday 02/25/2012, in the interior ministry, in the most secure section of the building, where only Afghans with special clarification are allowed to enter, in the Afghan capital Kabul, coalition officials said. NATO said an "individual" had turned his gun on the officers. The two were later identified as American colonel and major.
An Afghan rogue police intelligence officer is being sought over the killing of the two senior US NATO officers at the interior ministry in Kabul on Saturday. Abdul Saboor, 25, from Parwan province, was "the main suspect" and had fled the ministry following Saturday's attack, officials said.
NATO commander Gen J
ohn Allen
said all NATO personnel were being recalled from Afghan ministries on security grounds. A UK embassy spokesperson had earlier said all British civilians were being withdrawn from the ministries in what was hoped would be a temporary measure. The shootings come amid five days of deadly protests over the burning of copies of the Koran by US soldiers (see – koran row 02.21.12).
According to Afghan media sources, Abdul Saboor, the intelligence officer, was also known as Salangi, and was given a pistol as recently as last week after being cleared by the operation directorate of the interior ministry. Official sources said Abdul Saboor Salangi had signed into the high security ministry on both Saturday morning and afternoon.
The sources went on to tell Afghan media that Abdul Saboor was seen in the vicinity but ultimately managed to flee following the shooting at the ministry's command and control centre. Abdul Saboor's family have been arrested and a nation-wide investigation into his whereabouts has been launched in Afghanistan.
Salangi is believed to have joined the police force in 2010, where he was assigned to the intelligence department and went on to become a junior police officer working as a driver for senior police officials.
The incident occurred just three days after another 2 USA soldiers were killed by a fellow rogue Afghan soldier inside a military base in Nangarahr province, five days after two Albanian soldiers were killed by Afghan police during a meeting in Spin Boldak, Kandahar province (see – Spin-Boldak 02.20.12) and about a month after four French troops were killed in Kapisa province by another rogue Afghan soldier (see – Kapisa 01.19.12 ).
Similar incidents took place many times in the past. The coming withdrawal of NATO forces from Afghanistan (see – Petraeus W Plan) and the peace talks with the Taliban suggests that many Afghan security personnel are reconsidering their future in Afghanistan without NATO and American protective shield and with Taliban, at least partially, in power (see – Enigmatic-Peace). In future Afghanistan they and their families could be labeled as "collaborators" or "traitors" and be subject to abuses and persecutions. They have to do something to emphasise that they were not American yes men.
But the increase of the frequency of such shootings, in which Afghan security personnel shoot on NATO counterpart staff, suggests genuine anger over imported Western values ,which patronises and undermines local traditions and beliefs , an anger that broke out in the incident over Koran burning and in other cases of ignoring local traditions.
NATO-ISAF is now stationed in Afghanistan on borrowed time and, as the withdrawal plan is carried out, the rift between Afghans and NATO is expected to grow way more.
* Related topics ; 
–
10/2011 -13 U.S PERSONNEL KILLED IN KABUL 
***************************.
BBC NEWS
AL-JAZEERA
TIMESOFINDIA
MORE IN AL-JAZEERA