U.S CONSULAR VEHICLE BOMBED IN PESHAWAR. PAKISTAN
U.S CONSULAR VEHICLE BOMBED IN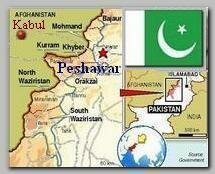 At least four people have been killed in a suicide bombing that hit a USA consular vehicle in Pakistan's Northwestern city of Peshawar, on Monday 09/03/2012. US officials said no-one from the US consulate was killed, but that two Americans and two Pakistani employees of the US consulate were wounded the American embassy said (see also – Peshawar 06.11.11).
A policeman told the AP news agency that an explosive-filled car struck the US government vehicle after it had left the consulate. Seventeen more people were reportedly injured in the attack. The identities of those killed remains unclear.
The blast took place near residential quarters for the US consulate and foreign aid organisations, senior police officer
Tahir Ayub
told the AFP news agency. The area hosts several foreign organisations, including the UN. There was no immediate claim of responsibility for the attack, which left a crater along a busy street.
Pakistan's Taliban (Tehrik-e-Taleban – TTP) who are close to Al Qaeda, are blamed for many of the suicide bombings across Pakistan, a strategic US ally. Those attacks had eased in recent months but it was not clear if the lull was due to pressure from military offensives
or a shift in tactics.
Peshawar is situated near tribal areas bordering Afghanistan, where Taliban and Al Qaeda operate. Militants in Pakistan and many Pakistanis are angry at US involvement in the war in Afghanistan and US UAV drone attacks which have left hundreds dead, mainly in the volatile FATA & NWFP border area between Pakistan and Afghanistan (see – Ambiguous Ties).
* Related topics ;


09/2011 -U.S EMBASSY IN RIYADH ISSUED TERROR WARNING

07/2011 -14 CHARGED IN TURKEY WITH U.S EMBASSY PLOT

05/2011 -FIRST ATTACK ON U.S INTERESTS IN PAKISTAN

01/2011 -RAYMOND DAVIS CHARGED WITH MURDER IN LAHORE

03/2006 -KARACHI U.S CONSULATE BOMBING 
******************************