– BOILING CAUCASUS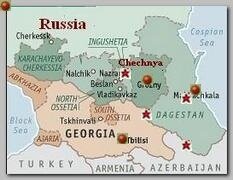 A suicide bomber has attacked, on Sunday 08/19/2012, the funeral of a policeman in Ingushetia in the volatile Caucasus region, killing seven other policemen and wounding at least 11 other people. The explosion came hours after masked gunmen opened fire in a mosque in Dagestan on Saturday as worshipers celebrated the end of Ramadan, wounding eight and leaving an explosive device that was later deactivated.
The funeral Sunday in a private home in Ingushetia was being held for a police officer who was shot dead a day earlier, on Saturday 08/18/2012. He died in hospital after several attackers shot him with automatic rifles late Saturday.

A female suicide bomber, identified as Amanat Kurbanova, 30, a Black Widow of another militant killed, on Tuesday 08/27/2012, Said Afandi Atsayev, 74, the powerful leader of a Sufi Muslims Brotherhood in Russia's unstable province of Dagestan, along with six other people, including an 11-year-old boy, in the central village of Chirkei.
A Russian Border Guard serving near Azerbaijan killed, on Thursday 08/30/2012, seven colleagues before he was shot dead himself. Superior officers said they had tried twice but failed to have him discharged because he was constantly reading about Wahhabism, a conservative form of Islamic fundamentalism.
Georgian special forces said, on the 08/30/2012, they intercepted a heavily armed unit of Islamic insurgents crossing over from Dagestan. They wore camouflage uniforms and carried Russian passports and copies of the Koran. The insurgents took five local residents hostage. Three Georgian Special Forces and 12 militants were killed in the firefight that followed the incursion. Officials said the hostages had been freed, and that six more militants had escaped and were believed to be hiding in the woods. The area, on the border of Georgia and the Russian republic of Dagestan, is mountainous, but with a nearby gorge and river.
After separatist violence ebbed in Chechnya in the late 2000s, Dagestan emerged as the epicenter of political unrest in southern Russia's four predominantly Muslim republics. Last month, Dagestan accounted for about two-thirds of the 78 people killed in armed violence in the north Caucasus region. There is an increasingly violent split among the 15 percent of Russians who follow Islam. Alexey Malashenko, an expert on Islam at the Carnegie Moscow Center, said in an interview to Voice of America, on 08/30/2012, the insurgents' goal is to break away from Russia and its dominant Orthodox Christian faith. "Their main target is the creation of an Islamic state, or caliphate, or Islamic territory," Malashenko said. But it is obvious the main conflict is now between moderate Islamic scholars and radical Muslims in Russia and the restive Caucasus (see – Kazan 07.19.12 ).
* Related topics ; 
**********************************
Read more ;