SHAJUL ISLAM ARRESTED IN U.K OVER KIDNAPPING IN SYRIA
SHAJUL ISLAM ARRESTED IN U.K OVER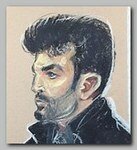 A 26-year-old man,
Shajul  Islam
, has been charged with the kidnap of a British photographer in Syria, the Metropolitan Police said on Tuesday 10/16/2012.
Shajul  Islam is accused of imprisoning
John Cantlie
and Dutch journalist
Jeroen Oerlemans
against their will. He was arrested at Heathrow airport on 10/09/2012 and will appear at Westminster Magistrates' Court later.
John Cantlie, who had worked for the Sunday Times, was taken hostage by Islamist militant fighters in Syria for a week on 07/17/2012. Earlier, a 26-year-old woman who had been arrested at Heathrow alongside Shajul  Islam on suspicion of terrorism was released without charge.
Speaking at the time of their arrest, Scotland Yard said the pair had flown to the UK from Egypt and confirmed both were British. Two addresses in east London were searched under the Terrorism Act in connection with police inquiries, the Met added.
John Cantlie, who had worked for the Sunday Times newspaper, had said that none of his captors were Syrian. "They were from anywhere but Syria. They were from Bangladesh, they were from Pakistan, they were from the UK, they were from Chechnya, the Caucasus – a real mix," he told the BBC in an interview. Cantlie also said that one of his captors claimed to be a British medic who said he had taken a sabbatical from his work so that he could treat wounded fighters in Syria (see – SYRIAN DILEMA).
Shajul  Islam completed his medical training at St Bartholomew's Hospital in East London, a NHS (National Health Service) doctor, who left the UK for Syria earlier this year, it was said (see also – Doctors plot).
British officials have said fewer than 100 nationals or people with links to Britain are thought to have travelled to Syria to fight against Assad's regime
* Related topics ;


08/2012 -LONDONER SHABAAZ HUSSAIN JAILED FOR 63 MONTHS OVER TERROR

07/2012 -AL QAEDA SUSPECT CAUGHT IN LONDON'S OLYMPIC PARK

07/2012 -7 MORE ARRESTED IN U.K OVER TERROR

07/2012 -6 MORE TERROR SUSPECTS ARRESTED IN U.K
***********************************