Hisham Karim Ali al-Saidni
HISHAM KARIM ALI AL-SAIDNI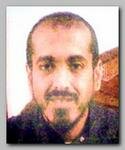 Hisham Karim Ali al-Saidni
was born in 1965 in the village of Al-Burayj in central Gaza Strip, then under Egyptian occupation. Hisham Saidni, also known as
Abu Walid al-Maqdasi,
who holds also a Jordanian citizenship,

became, after Hamas took over control on Gaza Strip in 06/2007, a leading member of the biggest Salafi Movement in Gaza Strip 'Tawhid wal Jihad'', one of a number of radical Islamic organizations in Gaza Strip known by their collective name 'Jaljalat'.
By the end of 2010 or early 2011 Hisham Saidni formed a Salafi group of his own the Mujahideen Shura Council of Jerusalem Region ( Magles Shourat al-Mujahddin fi Aknaf al-Quds) also known as Ansar Bait al-Maqdas.
Following Hisham Saidni's arrest by Hamas police in Gaza, on 03/03/2011, Vitorio Arrigoni was kidnapped in 04/2011 and later killed. 'Tawhid wal Jihad'' threatened to execute him unless Hamas released the group's imprisoned leader by a set deadline. In reponse other leading members of the Salafi groups in Gaza Strip were arrested by the Hamas authorities.
The "Magles Shourat al-Mujahddin" (The Shura Council of the Mujahiddin), probably the same 'Mujahideen Shura Council of Jerusalem Region', distributed through Jihadi website, on Friday 07/27/2012, a in which they took, again, responsibility on the attack.
Following the pressure of the Hamas in Gaza and the deterioration of Egypt's grip on Sinai many Salafists from Gaza Strip fled to Sinai through Rafah Tunnels. Since early 2011, the EGYPT'S REVOLUTION and the Libyan revolutions, Sinai became a safe haven for Jihadists and Salafists, many of them veterans of the LIbyan Civil- War, and the 'Magles Shourat al-Mujahddin' thrived and became a Jihadi multinational Arab Salafi organization with volunteers from Egypt, Yemen, Saudi Arabia and Libya based on logistic support from Gaza Strip (see – Nitzana 06.18.12).
In order to reach a compromise with the Salafist Movement and the Jaljalat in Gaza Strip and to maintain some sort of control of the Jihadi organization which not only targeted Israel but also complicated the relations with Egypt (see – Kerem Shalom Raid). Hisham Saidni was released by the Hamas authorities in Gaza Strip on 09/13/2012.
In and outside jail Hisham Saidni continued to plot and facilitate attacks against Israel. He was killed a month later, on 10/13/2012, alongside another senior terror operative
, Ashraf Sabah
, 37, by a Israeli UAV drone riding a motorcycle nearby Dir al-Balah in Gaza Strip. His organization and other fractions in Gaza Strip responded to Hisham Saidni's death with a barrage of rockets toward civilian villages in Israel.
Ashraf Sabah is the leader of another Safai organization operating in Sinai under various names like Ansar al-Sunna, Masada al-Mujahiddin or Ansar al-Jihad and is implicated with several attacks against Israel (see – Sinai Junction).
**

"Al-Tawhid "

(the Unitarians) is an Islamic ideology that there is a unification of the prophet Mohamed and God. Therefore the words and teaching of Mohamed are not an interpretation of Gods' words but the words of God himself.
* Related topics ;


09/2012 -MILITANTS ATTACKED PEACEKEEPING MISSION IN SINAI

12/2011 -ANSAR AL-JIHAD IN SINAI CLAIMED RESPONSIBILITY FOR ATTACKS

08/2011 -ISRAELI WINTER

01/2011 -GAZA'S ARMY OF ISLAM BEHIND ALEXANDRIA BOMBING 
**************************************