WEAPONS FACTORY MYSTERIOUSLY BOMBED IN KHARTOUM
WEAPONS FACTORY MYSTERIOUSLY BOMBED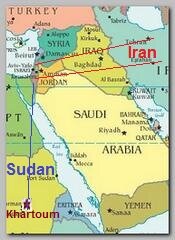 Sudan has accused, on Wednesday 10/24/2012, Israel of bombing a military factory, threatening retaliation after a resulting fire killed two people. "We think Israel did the bombing," Culture and Information Minister
Ahmed Bilal Osman
told a news conference. "We reserve the right to react at a place and time we choose" he said. The information minister declined to say whether any weapons from Yarmouk had ended up in Gaza, saying that only "traditional weapons in line with international law" were produced there.
The minister said four aircraft were involved in the attack, which occurred at about midnight (2100 GMT) on Tuesday 10/23/2012 at the Yarmouk military manufacturing facility in south Khartoum.

The Yarmouk installation was built in 2008 with Iranian money and is manufacturing all kinds of rockets.



Evidence pointing to Israel was found among remnants of the explosives, Osman said.
The Israeli military said it had "no comment" regarding the accusation.
In April 2011, Khartoum held Israel responsible for an airstrike that killed two people in a car near the city of Port Sudan. Israel did not comment on that incident (see – SUDAN 04.05.11(.
In 2009, a convoy carrying weapons in northeastern Sudan was targeted from the air, killing dozens. It was widely believed that Israel carried out the attack on what was suspected to be a weapons shipment heading for Palestinian armed groups in the Gaza Strip (see – PORT-SUDAN Bombing).
Israel never confirmed or denied that attack. Sudanese parliamentarians denied at the time that weapons were transported in the area.
Sudan has, since 2007, a military and security cooperation agreement with Iran. The distance between Israeli air bases to Khartoum, about 1900 km, is more than from the same bases to the Iranian nuclear facilities, which is in between 1600 to 1700 km. The Sudanese air defence system, according to Sudanese military sources, was jammed and paralyzed before the attack, which convinced the Sudanese authorities the attack was, indeed, carried out by Israel. Furthermore the alleged Israeli airplanes, If Israel was indeed behind the attack, flew all the distance without being noticed by either the Egyptian or the Saudi air defence systems. The mysterious attack is, therefore, a clear warning to Iran.
* According to the Sunday Times, on 10/28/2012, the information about the Yarmouk facility was obtained from documents seized from Mahmoud al-Mabhouh in Dubai, in 01/2010.
* Related topics ;











12/2011 -ISRAEL, ALLEGEDLY, ATTACKED CONVOYS IN SUDAN



04/2008 -DANGEROUS SUDAN 
***************************************