– AHMAD SAEED KHALIL EL-JABARI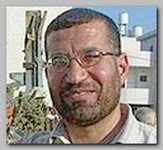 Ahmad Saeed Khalil el-Jabari, aka Abu Mahmoud, was born in Gaza Strip in 1960 (1959), then under Egyptian rule. He is a descendant of the prominent Jabari family (clan) in Hebron (Al-Khalil in Arabic) in the West Bank. Ahmad Jabari's grandfather fled to Gaza in the 30s' because of vendetta threats and he himself is third generation in Shejaiya.neighborhood of Gaza city. Ahmad Jabari began his political and militant carrier as a member of Palestinian President Mahmoud Abbas's Fatah party in the early 80s'.
In 1982 Ahmad Jabari was arrested by Israel for 13 years over terror activity and for a long period of time shared a cell with Salah Shehade, the former commander of the military wing of Hamas, Izz al-Din al-Qassam Brigades, who was killed by the Israeli IDF, on 07/23/2002, and, under his influence, switched his activity to Hamas.
Due to the fast mortal rate of Hamas commanders Ahmad Jabari became, in early 2006, the acting commander of the military wing of Hamas after his predecessor Mohammed Deif was severely wounded in an Israeli attack. Ahmad Jabari led and facilitated the the abduction of the Israeli soldier Gilad Shalit, on 06/22/2006, kept him under his control and used him as an immunity against Israeli target killings. It is, probably, also the reason to endless obstacles he posted to Gilad Shalit's release. Gilad Shalit was, eventually released, on 10/18/2011, in return for 1027 Palestinian prisoners and a special guarantee from Israel not to kill Ahmad Jabari as long as the status-quo around Gaza Stripp will be kept.
Ahmad Jabari was credited with leading the bloody 2007 takeover of Gaza from Fatah forces (see – Two Palestines), developing Hamas's military arsenal and its networks in Iran, Sudan (see also-Khartoum Bombing)  and Lebanon. He is considered as the man who turned the Hamas militia, the Izz al-Din al-Qassam Brigades, to a well functioning military force and became the shadowy "strong man" of Gaza Strip with veto power on any political decision in the Hamas leadership and with his men in any decision making junction.
The Israeli army said in a statement that Ahmad Jabari was "directly responsible for executing terror attacks against the State of Israel in the past number of years". Ahmad Jabari was more important to the Hamas than Imad Mughniyah (killed on 02/12/2008 in Damascus) to the Hizbullah in Lebanon because of his prominent political power.
Ahmad Jabari was killed by an Israeli UAV drone, on 11/14/2012 noon, at the opening of move of Israeli 'Operation Pillar Of Cloud" in Gaza against Jihadi militants firing rockets toward Israeli villages and towns in Southern Israel (see also – OPERATION CAST LEAD). Ahmad Jabari was replaced by Marwan Issa.

* Related topics ;
03/2012 -KILLING OF ZUHAIR QAiSI SPARKS ESCALATION AROUND GAZA

02/2008 -MUGHNIYAH'S KILLING IN DAMASCUS  
**************************************