– SUICIDE BOMBER ATTACKED U.S EMBASSY IN ANKARA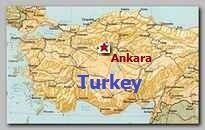 A suicide bomber blew himself up at the security entrance of the USA Embassy in Ankara, Turkey's capital, on Friday 02/01/2013 at about 13:30 local time. According to initial reports 

a local security guards and the suicide bomber were killed in the explosion

and others were injured in the attack.
The embassy's side entrance suffered damage.
The bomb appeared to have exploded inside the security checkpoint at the entrance of the embassy (see also – Ankara 07.15.11 ).
* The Turkish authorities claimed few hours after the attack it was carried out by a radical leftist group, the DHKP-C (Revolutionary People's Liberation Party-Front ).

Turkish broadcaster NTV named the suicide bomber as
Ecevit Sanli
, a DHKP-C member.
The channel said he had taken part in an attack on a club for military personnel in Istanbul in 1997, for which he was sent to jail.
The DHKP-C is designated a terrorist organisation in the USA and Europe. It has been blamed for a number of attacks since the 1970s, including some on US diplomatic missions.
Indeed, on Saturday 02/02/2013, the
DHKP-C took responsibility on the attack through the web.
* Related topics ; 
************************