– 3 ARRESTED IN NIGERIA OVER SPYING FOR IRAN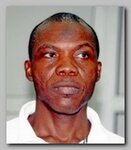 Nigerian state security police said, on Wednesday 02/20/2013, they arrested three people suspected of being members of an Iran-linked terror cell planning attacks on U.S. and Israeli interests in Lagos, the commercial capital.
AFP reported that the leader of the Shiite sect in the central city of Ilorin, named as Abdullahi Mustapha Berende (pic), 50, was arrested last December (2012) "for his active involvement in espionage and terrorist activities," state security service spokeswoman Marilyn Ogar said.
Investigations revealed that Abdullahi Berende, accused of establishing a "terrorist cell" in Nigeria's southwest, with a particular emphasis on Lagos, recruited the two other suspects for the task, Ogar said.
Abdullahi Berende underwent his training in Iran and his Iranian sponsors requested him "to identify and gather intelligence on public places and prominent hotels frequented by Americans and Israelis to facilitate attacks," she said. A fourth member of the group, Bunyamin Yusuf, is now at large, according to Ogar. Deborah MacLean, a spokeswoman for the U.S. Embassy in Abuja, said she had no information on the allegations when contacted by Bloomberg news reporters.
According to Bloomberg, Ogar said the group was planning attacks on the Lagos offices of the U.S. Agency for International Development, the Haifa-based ZIM Integrated Shipping Services Ltd. and the Jewish Cultural Center.
Abdullahi Berende, allegedly, gave to his Iranian handlers the names of former dictator Ibrahim Babangida, and ex-supreme leader of Muslims in Nigeria, Ibrahim Dasuki, as targets for attacks that could "unsettle the West," Ogar told AFP.
His accomplices, identified as Saheed Aderemi Adewumi (1) and Sulaiman Olayinka Saka (2), conducted surveillance and gathered data on the targets, ahead of the attacks, alleged Marilyn Ogar.
Abdullahi Berende denied involvement in espionage or terror-related activities but admitted seeking information about some individuals and institutions, AFP reported.
A shipment of Iranian weapons, including rockets, grenades and mortars, was seized in 2010 by Nigerian customs who said they were labeled as "packages of glass wool and pallets of stone." Azimi Aghajani, an Iranian national, and Nigerian Aliyu Jega are facing trial for illegally shipping the weapons into the country (see – Lagos 11.01.10 ).
* Related topics ; 
***********************************
ISRAELNATIONALNEWS
VANGUARD-NIGERIA
NAHARNET.COM