– TWIN EXPLOSION KILLED 17 IN HYDERABAD, INDIA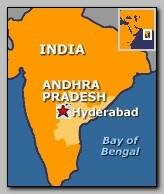 At least 17 people have been killed and 47 people injured, on Thursday 02/21/2013, after two bomb blasts struck the southern Indian city of Hyderabad. The blasts were about 10 minutes apart and occurred near a movie theatre and a bus station. it's believed that one of the blasts occured as people were leaving the cinema (see also – Hyderabad Attack).
Police said they are trying to determine the cause of the explosions. The attack occurred at the same day that the National Investigating Agency – NIA has filed a chargesheet against 12 of 15 arrested Lashkar-e-Toiba – LeT terror suspects in a special court in Bangalor (see – Karnataka Terror Module ).
Local media had reported a threat two days ago but there was no specific intelligence as to what might happen.
The last major bomb attack in India was on September 2011 outside the high court in Delhi, killing 13 people (see – Delhi Court 09.07.11 ). 
—————————–
* As the CCTV camera installed in Dilsukhnagar was reportedly sabotaged just days before the twin blasts, the Hyderabad police are clueless about the people behind the attack. Though no outfit has claimed responsibility, latest reports suggest that INDIAN Mujahideen – IM founder Riyaz Bhatkal may have orchestrated the blasts from Pakistan.
Bhatkal, who is holed up in Pakistan, was said to have masterminded the Hyderabad twin blasts and carried out the attack with the help of IM operative Yasin Bhatkal, sources tol Zee News.
Speculations are also doing the rounds that the blasts were executed to avenge the death of Parliament attack convict Mohammad Afzal Guru.
* A special court in Delhi, on Tuesday 03/05/2013, issued arrest warrants for 10 members of the Indian Mujahideen, a banned terrorist organization, including its founder, Riyaz Bhatkal, in connection with the Feb. 21 Hyderabad blasts.
* Related topics; 
***************************************