– FRENCH EMBASSY IN LIBYA ATTACKED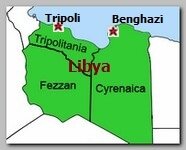 The French embassy in Libya's capital Tripoli, has been attacked, on Tuesday 04/23/2013 morning, and two guards have been injured. 'There was an attack on the embassy. We think it was a booby-trapped car,' said an embassy official. 'There was a lot of damage and there are two guards wounded' an official said.
The white wall surrounding the building has been destroyed and the property has suffered extensive damage in the explosion. 
Last year on September 11, the USA. embassy in Benghazi was attacked leading to the death of U.S. ambassador
Christopher Stevens
, his state department colleague
Sean Smit
h and former Navy Seals
Tyrone Woods
and
Glen Doherty (see – US Envoy C. Stevens)
. 
* Related topics ; 
2013 -THE FRENCH MALI CANPAIGN 

2011 – THE LIBYAN CAMPAIGN – ODYSSEY DAWN
**************************
Read more:
DAILYSTAR