– DUSSELDORF CELL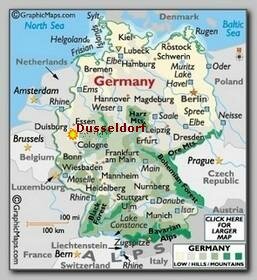 The Dusseldorf  Cell was an Islamic terror cell that operated in Dusseldorf, Germany, in 2002 and 2003. The four members of the cell: the Jordanians Mohammed Abu Dhees and Ismail Shalabi, the Palestinian Ashraf al-Dagma and the Algerian Jamel Moustfa, were arrested on 04/23/2003 for charges that they have planned to plant bombs in the Jewish museum in Berlin and a Jewish-owned discotheque or bar in Dusseldorf.
The plot was foiled because of the arrest of the Jordanian Shadi Abdallah in 04/2002 as a member of an Al-Tawhid group and, probably, because of his previous connection to two members of Hamburg Cell  Mounir el Motassadeq and Abdelghani Mzoudi.
In the investigation Shadi Abdallah exposed the Dusseldorf  Cell and their intention to attack Jewish targets. The four suspects were put under surveillance and their phones were bugged. The Germany security service managed to tape telephone conversations between Abu Musab al Zarqawi and his followers in Germany referring to the Dusseldorf  Cell and their supposed targets.
On 10/26/2005 Mohammed Abu Dhees, Ismail Shalabi and Ashraf al-Dagma were convicted for plotting attacks and belonging to a terrorist organization and were sentenced to eight years in jail. Jamel Moustfa was convicted of supporting a terrorist group and was sentenced to five years in jail.
**********
** "Al-Tawhid " (the Unitarians) is an Islamic ideology that there is a unification of  the prophet Mohamed and God. Therefore the words and teaching of Mohamed are not an interpretation of Gods' words but the words of God himself.
* Related topics – 
12/2004 -GERMAN ANSAR CELL 
***************************
Read more  ;