– IRAQ'S NIGHTMARE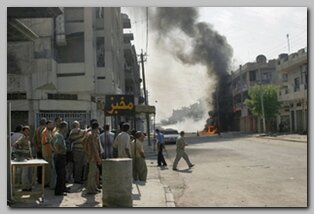 Retired Lieutenant General Ricardo Sanchez, the first USA led coalition commander in Iraq in the chaotic years 2003-4, who retired from the military in 11/2006, part of the fallout from a scandal over abuse of detainees by US military personnel at the Abu-Ghraib prison in Baghdad, addressed on 10/23/2007 a meeting of military correspondents and editors in Arlington, a Virginia suburb of Washington.
General Ricardo Sanchez described the Iraq war "a nightmare with no end in sight". He criticized vigorously the political leadership of USA and current strategy and said. "The best we can do with this flawed approach is stave off defeat."
Although the definition of the war in Iraq as "a nightmare with no end in sight" is very much realistic, General Ricardo Sanchez did not suggested any alternative strategy for the USA.
General Ricardo Sanchez did not define 'victory' in Iraq, did not express his opinion if such a 'victory' is achievable by suggesting another better strategy and did not give an answer to the curtail question – should USA seeks some kind of 'victory' in Iraq or, instead, to diminish the damage, cut the loses, and look for a gradually pool out strategy from the war in Iraq.
Any strategy for Iraq needs few years to result any substantial success and success can not be guaranteed. It is too late for the current USA administration to carry out a long term successful strategy, that burden will remain the nightmare of the next administration.
* Related topics ;
06/2007 -IRAQ-VIETNAM
03/2007 -THE IRANI NEIGHBOR
07/2006 -THE BAKER-HAMILTON REPORT
**************
Read more ;