BBC News
– INDIAN CINEMA EXPLOSIONS
Published
October 15, 2007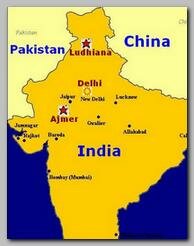 On 10/11/2007 evening a bombed exploded inside the complex of the highly-revered Sufi shrine of Khwaja Moinuddin Chisti in Ajmer, Rajasthan. The explosion killed 3 people and wounded 28 more. The Indian Authorities feared some kind of retaliation and has been, in the last days, on nationwide alert.
On 10/14/2006 evening at about 20:15 local time a single home made bomb exploded in a cinema in Ludhiana, in the northern Indian state of Punjab, near the Pakistani border, and has killed six people and injured at least 30 others.
The attack occurred on one of the holiest days of the Muslim calendar, Eid al-Fitr, which marks the end of the holy month of Ramadan, and came weeks before two major Hindu festivals, Dussehra and Diwali and endangers the already fragile Hindu-Muslims relations in North India.
*****************************
Read more ;