– 2005 SOUTH AMERICAN DRUG GANG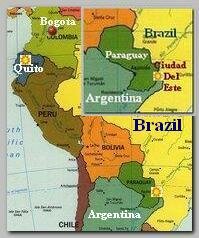 In 06/2005, after long police cooperation between Brazil, Colombia, Paraguay and Ecuador, which received the name "Operacion Damasco", the Ecuadorian police published, on 06/21/2005, the arrest in Bogota, Colombia of the Colombian citizen from Lebanese descent, Rady  Zaiter, for leading a large drug smuggling network in South America based and coordinated from Quito, Ecuador's capital. His lieutenant, the Syrian Maher Hamajo, was arrested too.
!8 more suspects, most of them from Lebanese, Syrian and Palestinian descent, were arrested simultaneously: 6 in Ecuador and the rest in Brazil, Colombia and Paraguay as part of the network. Rady  Zaiter was in contact with Talal Khalil Chahine, a Hizbullah supporter, who owned a restaurant in Detroit USA and is today (02/2008) a fugitive in USA. It is most likely that his interrogation led, eventually, to the exposure of Nada Nadim Prouty, an FBI agent.  
Rady  Zaiter, known by his aliases David Assi Alvarez and Almawla Fares, is officially a restaurant owner in Quito, Ecuador's capital. According to Ecuadorian security sources Rady  Zaiter was connected to Hizbullah in Lebanon and his network was, in fact, laundering money for the Hizbullah. About 70% of the profit was channeled to finance the Hizbullah and, consequently, the Hamas in the Palestinian territory. 

Almost simultaneously, on 06/17/2005, the Brazilian Federal Police arrested in Foz de Iguazu Saiel Bashar Yahya Al Atary, 43, a Jordanian citizen from Palestinian descent, and 21 others described as Islamic terrorists. Saiel Bashar Yahya Al Atary was described by the Brazilian Federal Police as the leader of Hamas in South America. Along with him the Brazilian police arrested: Mamoun Ismail Shejade, Moustapha Ismail Shejade, Jihad Baalbaki, Alal Jamal Yamil Amer and Nadauf Al Moutylrl. They were charged with being part of an international ring that committed credit card fraud, counterfeited documents and were involved in drug trafficking connected to Rady  Zaiter.
Saiel Bashar Yahya Al Atary recruited some of his activists through the Sunni Imam, Said Al Taijen, who preached to the Muslim community in the nearby Paraguayan town of Ciudad del Este.  Said Al Taijen was a member of the chamber of commerce in Ciudad del Este, an ideological supporter of Al Qaeda and was associate with the Egyptian Al-Sayid Hassan Mukhlis, one of the Luxor Massacre perpetrators, who managed to flee Egypt and was killed, eventually, in Ciudad del Este in late 1997.   
The Paraguayan police, in full coordination with the Brazilian police, , arrested in the nearby town of Ciudad del Este, just across the border: Hicham Abdul Rahman, Khalil Badrum, Mahmoud Bachar Atary, Mohamad Hassan El Said and Bilal Saki Abdel Fatah Shejade,  as belonging to the network.  Two suspects – Maher Nasser el-Din, a Lebanese citizen and Sobhi Mamoud Fayad, were arrested in Paraguay in direct connections with Islamic international terror.
Summary ;
* The 2005 South American drug network is a good example of the symbiotic relations between terror and crime network which is typical to all terror activity in the last 150 years in the World.
* The Tri-Border Area (TBA) that binds Puerto Iguazu, Argentina, Ciudad del Este, Paraguay and Foz do Iguacu, Brazil, is a center of lawlessness and lucrative criminal activity in South America that includes Russian and Asian gangs, Middle East terror networks, in addition to South American criminal syndicates etc…..
* Related topic –  
–
2011 -HIZBULLAH'S "OPERATIONS ABROAD" APPARATUS  
2008 -HIZBULLAH'S DRUG GANG IN SOUTH AMERICA  
1999-07 -THE STORY OF NADA NADIM PROUTY
**********************************
Read more ;