– PALESTINIAN FACTIONS CLASHES IN LEBANOM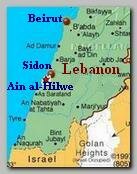 InAin al-Hilweh refugee camp in Lebanon, in the outskirts of the southern city of Sidon, fighting breached out between the Islamic group 'Jund al-Sham' and Fatah supporters on Thursday 03/20/2008.
The clashed were sparked by the arrest of Samir Maaruf, a commander in the Jund al-Sham, by Fatah supporters, and handed Samir Maaruf over to the Lebanese army, accusing him of violence. Ain al-Hilweh is one of the most crowded refugee camps in the Middle East. Both sides exchanged gunfire and launched rockets on each other in the middle of the densely populated camp. One Fatah fighter was killed and many families were forced to flee their home. According to the Lebanese army Calm has returned to the Palestinian refugee camp on Saturday 03/22/2008 morning.
Ain al-Hilweh is divided between few "Colonels" like Sultan al-Aynain, Munir Maqdah and others, which fight each other about the domination on the camp.
* Related topics –  
–
11/2007 -BLOODSHED IN GAZA, SIX FAtAH SUPPORTERS KILLED 
11/2007 -ANNAPOLIS INVITATIONS 
*************
Read more ;