– ACHMAD ROICHAN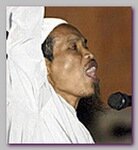 Achmad  Roichan,alias Saad, was born in 1960 in Sulawesi, Indonesia. He fought in Afghanistan in the 80s' and, eventually, joined the INDONESIAN JI.
 In early 02/2003, in the manhunt after the Bali '02 Bombings perpetrators, police entered the home of a Bali bomb suspect Achmad  Roichan. He escaped, but investigators retrieved a pile of documents on the second floor of the house, which was used as the group's operational headquarters. A key find was the carefully bound, photocopied manual. Besides laying out the rule on armed operations, it described Jemaah Islamiah members' obligations and the network's structure, from the emir (Supreme military commander) to the network's three geographical zones (Mintiki) in Southeast Asia, each with its own particular function. 
Achmad  Roichan was arrested in 04/2003 when he was hiding in the Central Sulawesi provincial capital of Palu. His arrest led to the disclosure and the arrest of the Palu-Cell few days later.
On 03/09/2004 Achmad  Roichan was found guilty of "hiding information" on the whereabouts of Ali Ghufron alias Mukhlas, one of the main perpetrators of the bombing, which killed mostly foreigners. Achmad  Roichan was sentenced to 9 years imprisonment. Achmad  Roichan was also found guilty of "illegally possessing 193 bullets for carrying out jihad (holy war), although the ammunition was not used."
During the trial proceedings, Achmad  Roichan admitted he had frequently met with Ali Ghufron in October and November of 2002 at the defendant's rented house in the Central Java town of Solo when Ali Ghufron was a fugitive.
 * Related topics –  
*************************
 Read more ; 
HVY.ORG- ARTICLES