– COFFEE EXPLOSION INJURED ONE IN KUNMING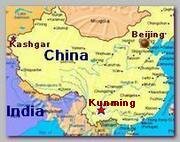 A man was seriously injured, on Wednesday 12/24/2008, in an explosion at a coffee bar here in southwest China's Yunnan Province, police and witnesses said.
The incident happened at about 10:30 a.m. at Salvador's Coffee House, a Western restaurant near Yunnan University, said a spokesman for the Kunming municipal public security bureau. An investigation is under way.
A resident living near the bar claimed to have seen the victim, a young man, being carried out of the bar by rescuers. "His legs were bleeding and seemingly broken," said the woman, who declined to give her name.
Police had cordoned off the bar when Xinhua reporters arrived at the site around 12:40 p.m. Witnesses said they saw no flames, only some smoke. The cafe is said to be one of the best international restaurants in Kunming, according to an online rating published this week at gokunming.com, a website run by three foreign nationals and two Chinese.
The Chinese police suspects that the East Turkistan Islamic Party [ETIP] is behind the attack.
* Related topics – 
–
**********************
Read more ;