– 2000-5 – CHECHNYA ATTACKS
–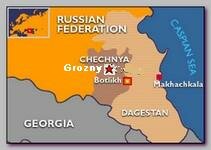 * Grozny 06/06/2000 –
On 06/06/2000 and five days later, on 06/11/2000and Chechnya experienced its first suicide bombings.

 

Two teenage girls – Khava Barayeva and Luiza Magomadov and a former Russian prisoner of war Sergey Dimitriyev

 

attacked Russian paramilitary police – OMON with two car bombs, killing at least four OMON troops.
–
* Grozny 07/02/2000 – On 07/02-3/200, Chechen separatists launched five suicide bomb attacks into Russian military police headquarters and barracks in Grozny within 24 hours, killing at least 54 people and injuring more than 100.  
–
* Grozny 12/2001 – A suicide car bomb driven by a 16-year-old Chechen girl was stopped by gunfire, as it smashed through checkpoint and block posts on its way to a Internal Affair Ministry building in Grozny. The girl was wounded but survived the attack.  
–
* Grozny 02/05/2002 – On 02/05/2002 a 16-year-old boyfriend of Zarema Inarkayeva detonated a small bomb she was holding in a bag inside of the building of Zavodsky district police station in Grozny. Fortunately for Zarema, who was forced into the operation, the bomb did not detonate as expected and there were no casualties. 
–
* Grozny 06/20/2003 – On 06/20/2003 a truck bomb attack on a Grozny government building fails when the truck explodes prematurely, injuring 36 people.  
–
* Grozny 04/15/2005 – On 04/15/2005, Russian and Chechen regional forces battled fighters holed up in an apartment building in the Chechen capital of Grozny, killing at least six fighters and leaving at least 3 federal troops dead, officials said. One of the killed terrorists was a Kazakhstani citizen.  
The daytime gun battle came hours after Russian forces staged a pre-dawn raid, killing four fighters, seizing two portable anti-aircraft missile systems SAM-7 from rebels near the Russian main air base at Khankala. Russian Special Forces had blocked off the building after being tipped off that rebel fighter Doku Umarov was in the building. That information was, eventually, proved wrong. 
–
* Znamenskoye 07/19/2005 – On 07/19/2005 morning, Chechen rebels opened fire on a police patrol near the village of Znamenskoye, About 50 km North of Chechnya's capital Grozny. Then the militants activated a bomb on police reinforcement who rushed to the scene. !5 policemen were killed and about 20 wounded in the attack.  The Chechen President Alu Alkanov has declared 07/21/2005 the day of mourning for the victims in Znamenskoye blast, the report said. He said that according to intelligence sources Shamil Basayev was the mastermind of the attack (see also – Znamenskoye Bombing ).
* Related topics –
–
2002-3 -CAUCASUS VIOLENCE  
***********************
Read more ;