– PANKISI GORGE TRAINING CAMP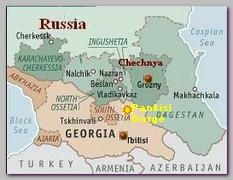 Pankisi-Gorge, is a mountainous region in Georgia on the border with Chechnya, about 160 km Northern to Tbilisi, Georgia's capital . Because of the difficult accessibility and the weak and corrupted regime of Presiden Eduard Shevardnadze, who was in power in Georgia from 1989 up to 2003, the place became a refuge place and a safe haven for Chechens separatists or Islamist who fled Chechnya. 
Following the invasion of Russia to Chechnya, in 11/1999, and the beginning of the Second Chechen War, it was estimated by Western Intelligence Organizations that about 4,000 refugees from Chechnya fled to Pankisi-Gorge. According to United Nations High Commission for Refugees (UNHCR), more than 85 percent of the Chechen refugees found home with local Chechen families in several villages in the Pankisi-Gorge region.  In fact the Chechen created a Chechen community linked to the Chechen community in Chechnya.    
In summer 2001 Ruslan Gelayev took advantage of the situation and founded in Pankisi-Gorge his training camp and his base of operations against Russians in the Northern Caucasus, especially Chechnya and Ingushetia.
The Pankisi-Gorge has been a diplomatic sore point between Moscow and Tbilisi, based on the formers' ascertain that the Georgian government has been incapable of containing the movements of Chechen fighters allegedly operating from the Pankisi-Gorge. In 2002, Vladimir Putin, the Russian premier, threatened military action against Pankisi-Gorge. Tbilisi relented to Russian pressure, agreeing to joint border patrols and the extradition of suspected Chechen separatists. However, in 09/2002, following the Galashki Raid led by Ruslan Gelayev and launched from Pankisi-Gorge, Russian jets bombed the Gorge, inflicting causalities amongst the Chechen refugee population.
In 10/2002, the Georgian government handed to Moscow five of thirteen Chechens requested by Russia, despite fears for their safety and the absence of due process. But, citing a European Court of Human Rights ruling, Georgia refused to hand over the remaining suspects. Nevertheless, the extraditions elicited the condemnation of the Chechen government-in-exile.
The events led, in 2003, the USA to establish a $64 million "Train and Equip" program to strengthen Georgia's counter-terrorism capabilities, with focus on Pankisi-Gorge.
* Related topics –
–
************************
Read more ;