– VARANASI BOMBINGS
–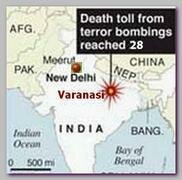 On 03/07/2006 noon, a bomb exploded in the popular Sankot Mochan temple dedicated to the Hindu God Hanuman in the town of Varanasi, India. Minutes later a second bomb exploded in the near-by train station. At least 28 people have been killed in twin bomb explosions and 60 others were wounded. A third bomb was found and defused by the local police. An unknown group, calling itself the 'Lashkar-e-Kahar' (soldiers of victory in Arabic) of the Indian part of Jammu and Kashmir has claimed responsibility.
Varanasi, about 700 km South-East of India's capital Delhi, on the bank of the holy Ganges river, in the Northern Indian state of Uttar Pradesh, is the religious capital of Hinduism and is usually packed with Indian pilgrims and foreign tourists.
Since the Babri Mosque crisis in 1992 the state of Uttar Pradesh became the scene of religious tension between Hindus and Muslims, which inflicted on all India.
According to media reports, hours after the blasts in Varanasi, a suspected Lashkar-e-Toiba terrorist was shot dead, along with two of his associates, in an encounter with the police in Gosaiganj area on the outskirts of Varanasi early on Wednesday 03/08/2006. Police identified the terrorist as Abdel Salar alias Doctor.  RDX and some detonators were recovered in an apartment in Varnasi after the encounter with the Special Task Force (STF), police sources said. Abdel Salar left his home in Jammu a year earlier and according to his family they lost all contact with him since his disappearance. 
The apartment was used, most likely, as a base of operation for the bombing perpetrators. Uttar Pradesh, Chief Secretary, Mr. Sinha said bombs were made in Bihar. The material to make bombs was procured in Nepal which was then smuggled across the porous Indo-Nepal border.
* Due to general precaution measures the Indian police uncovered, on 03/11/2006, in the toilet of the central trail station of Mumbai, a small stash of RDX explosive, which was defused by the police.
* On 05/09/2006 the main suspect of the Varanasi bombing, Abu Zubair, an operative of the Pakistani based terrorist group Harkat-ul-Jihad-al-Islami – HuJI was gunned down in a joint operation of the Indian police and army in Handwara area of North Kashmir. Abu Zubair came from the north Indian state of Uttar Pradesh and was attempting to flee to Pakistan.
.
* Note – Abu Zubair is a nick name. There are also other Abu Zubairs involved in Islamic terror in India and all over the world, which might cause some confusion who is who. 
* Related topics –
–
11/2007 -12 KILLED IN UTTAR-PRADESH MULTI EXPLOSIONS  
***********************
Read more ;  
INDIADAILY