– TRIPLE MINDANAO BOMBINGS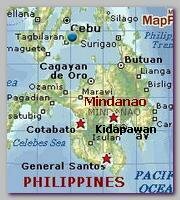 On Wednesday 01/11/2007 evening, a bomb exploded, near Lotto ticket vendors, in Southern Minadano, in the city of General Santos, in the Philippines. 6 people were killed and 44 wounded in the blast. Forensic investigation showed the improvised bomb used in General Santos was fashioned from Tri Nitro Toluene, known as TNT, and C4 plastic explosive.
Two hours later another bomb exploded near a police check post in Kidapawan and wounded at least six people. The bomb contained also the same type of explosive as in General Santos blast few hours earlier. A third bomb, made from a 81 mm mortar shell went of in Cotabato city killing a garbage collector and wounding 5 others.
The attacks came 24 hours after a warning was issued by Australian Intelligence. The warning said a possible series of attacks was expected across the cities of the Southern Philippines.
The triple bombing occurred on the eve of a regional Asian Economic Summit – ASEAN, scheduled to convey in the central City of Cebu, on 01/15/2007. The convention was already postponed, once, from 12/08/2006 due to a specific terror alert (Cebu Allert) but, this time, ASEAN assembled as planned. Authorities believed that the attack was executed by Abu Sayyaf.   
* The mastermind of the attack, Dinno Amor Pareja, was arrested on Friday 08/21/2009.
* Related topics – 
–
04/2002 -GENERAL SANTOS BOMBING  
RAJAH SULAIMAN GROUP – R.S.G
**********************
Read more ;