– ADDIS ABABA ATTEMPT
–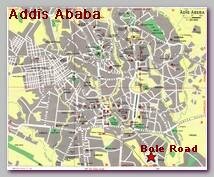 On 06/26/1995, when the Egyptian president Hosni Mubarak arrived to Addis Ababa, Ethiopia's capital, for a presidential official visit and to participate in the African Summit, he and his convoy were ambushed in Bole Road, on the main highway from Addis Ababa international airport to the Ethiopian presidential residence, by an EGYPTIAN Jamaa Islamiya team, led by the Sudanese Mohammed Seraj. Mohamed el-islambouli, the older brother of Khalid El-Islambouli, the assassin of the former Egyptian president Anwar Saadat in Cairo, on 10/06/1981, took also part in the planning and coordinating of the attempt. The attackers used AK-47 rifles, machineguns and RPG rocket propelled grenades. 
Hosni Mubarak was unhurt although his bulletproof limousine absorbed several hits from AK-47s. While his body-guards returned fire and stood between the assailants and the president's limousine, Hosni Mubarak's driver made a successful U turn and returned immediately to Addis Ababa Airport. The Egyptian Intelligence minister, General Omar Sulaiman, who was with the president in the car, ordered through the communication system to prepare the Egyptian Presidential plan for immediate flight, and from Addis Ababa they flew back to Egypt. Two assailants and two Ethiopian police officers were killed in a gunfight.  Mohammed Seraj himself managed to flee back to Sudan.
* On 07/01/1995 Ethiopian police shot dead three gunmen on the run since their failed attempt to assassinate the Egyptian President, Hosni Mubarak in an Addis Ababa suburb. Meanwhile the Egyptian intelligence claimed that three Ethiopian security officials took part in the failed attempt by connecting between the Sudanese intelligence and the perpetrators and facilitating their moves in Addis Ababa. Ethiopia asserted that all five of the gunmen killed during and after the attempt were Egyptians.
* On 07/05/1995 the Egyptian Jamaa Islamiya took responsibility on the attempt and said in a statement that it will stop attacks against Egyptian Government officials and security forces when Mr. Mubarak releases thousands of Islamic militants, lifts emergency security laws and institutes an Islamic theocracy.
* Mohamed el-Islambouli himself managed to flee, through Sudan, to Iran, where he received political asylum.  
* Abdul Aziz Muqrin took part in the attempted murder of Hosni Mubarak by providing logistic support. He was caught, along with other 5 Islamists, by the Ethiopian Police and was jailed in Ethiopia. In 1998, due to "good behavior", Abdul Aziz Muqrin was handed over to Saudi Arabia and spent two more years in Saudi jail.
* In an UN press release from 04/26/1996, the USA government officially accused Sudan of "supporting and sheltering" the terrorists who attempted to assassinate Mubarak.
* According to a well-placed source in Washington in 2001, Ali Osman Mohamed Taha, first Vice President of the Government of Sudan and the real power in the regime, was one of those behind the assassination. Even more damning, Ghazi Salahdin, senior advisor to President Omar Beshir, was not only behind the assassination attempt, but is authoritatively reported to have provided transport and passports to the assassination operatives who escaped from Ethiopia, enabling them to move on to Afghanistan. Others figures implicated in the assassination attempt include Nafi Ali Nafi, then (1995) Chief of External Intelligence and Qutbi al-Mahdi, perhaps the most virulently anti-American member of the National Islamic Front of Sudan.
* One of the Egyptian perpetrators, known as Mustafa Hamza, was extradited from Iran to Egypt, probably in 12/2004, in a diplomatic attempt to warm the relations between Cairo and Teheran. Mustafa Hamza – Abu Hazem is the only one who was arrested for direct involvement in the attack.
* Related topics –
–
11/1995 -EGYPTIAN ENBASSY BOMBING IN PAKISTAN  
******************************
Read more ;  
WEEKLY AL-AHRAM