– MUSTAFA HAMZA – ABU HAZEM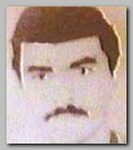 * Mustafa Ahmed Hassan Hamza , also known as Abu Hazem, was born in 1956 in Egypt. Moustafa Hamza and EGYPTIAN Islamic Jihad leader Ahmad Salamah Mabruk graduated from the same Cairo University class. Moustafa Hamza is married and a father of 4 children.
Moustafa Hamza was arrested following the assassination of President Anwar Saadat in 10/1981. In prison, he was indoctrinated into the EGYPTIAN Jamaa Islamiya (EJI) radical ideology. After his release, he went to Afghanistan, from where he paid frequent visits to other countries such as Pakistan, Sudan and Iran. Moustafa Hamza headed EJI paramilitary branch, which mounted major terrorist strikes against Egypt between the mid-1980s and 1997.
Moustafa Hamza was suspected by the Egyptian authorities of masterminding the Addis-Ababa Attempt on the Egyptian President Hosni Mubarak, on 02/26/1995, the assassination of the speaker of parliament Rifaat el-Mahgoub, in 10/1990, and with involvement in an assassination attempt on Shura Council Speaker Safwat el-Sherif when el-Sherif was information minister in the mid 90s'.
Following the Luxor Massacre in 11/1997, Moustafa Hamza fell out with former EGYPTIAN Jamaa Islamiya leader Rifaai Taha, who, according to EJI sources, was kidnapped from Syria and handed over to Egypt in 2001. Moustafa Hamza moved, therefore to Iran. Apparently, Taha's wife and children lived with Hamza 's family in Mashhad, Iran, following Taha's abduction, until they were eventually permitted by the Egyptian authorities to return to Egypt.
In 1998, following Taha's resignation, Moustafa Hamza took over as head of EGYPTIAN Jamaa Islamiya (EJI). He has remained in this position ever since, and continued to enjoy the support of the group's historical leadership in Egypt when he agreed to their renunciation of violence. Moustafa Hamza stated repeatedly that EJI was not responsible for the Luxor Massacre. 
Moustafa Hamza faced three death sentences issued by special military tribunals for his terrorist activities. He was extradited back to Egypt on 12/05/2004 in an Iranian attempt to warm the relations with Egypt.
Today (05/2009) Moustafa Hamza is in Egyptian custody.
* related topics –
–
1995 – ISLAMABAD EGYPTIAN ENBASSY BOMBING   
PROFILE – SHEIKH OMAR ABDEL-RAHMAN  
*******************************
Read more ;  
WEEKLY AL-AHRAM