BBC News
– CASABLANCA ARRESTS (2006)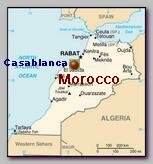 Moroccan security forces have detained, on 11/14/2006, 13 people suspected of belonging to an Al Qaeda linked group which has threatened to kill top government officials, Moroccan sources said. 
According to them, the 13 people arrested are suspected of being members of "Jamaat al-Tawhid wal Jihad. The suspects were questioned by police before further investigation by a court magistrate and trial, they told Reuters.
The Casablanca-based al-Tawhid is the second Jihadist group to be broken up by security forces in the kingdom since they dismantled in August Ansar al-Mahdi, which vowed to turn Morocco into a purist Islamic state.
** "Al-Tawhid " (the Unitarians) is an Islamic ideology that there is a unification of  Mohamed the prophet and God. Therefore the words and teaching of Mohamed are not an interpretation of Gods' words but the words of God himself.
* Related topics – 
PROFILE –MOHAMED BENHEDI MSAHEL
2006 -ALEXANDRIA  NETWORK
2005 -THE FRENCH MAROCCAN NETWORK
**************************
Read more ;