– AZERBAIJAN FOILED ATTACK ON ISRAELI EMBASSY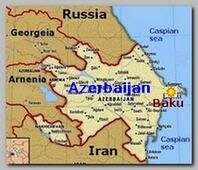 Azerbaijan is accusing, on Sunday 05/31/2009, Hizbullah and Iran of planning to attack the Israeli Embassy in the capital Baku to avenge the 02/2008 assassination of the Shiite group's military chief Imad Mughniyah, the Arabic daily aSharq al-Awsat reported Sunday (see – Mughniyah's Death). The report comes with the start of a closed-trial of four Lebanese and four Azeri nationals who were detained last year on charges related to terrorism, espionage and other crimes, the paper added (see – Operation-Abroad).
According to authorities in Baku, the cell members were detained over a year ago after intercepting calls between "local armed men and two members of Hizbullah." They said police also rounded up two suspected Hizbullah members following a car chase and confiscated explosives, binoculars, cameras and silencers. The two men were identified as Ali Karaki "an expert in Hizbullah's overseas operations unit" and Ali Najmeldine who is described as "an expert in explosives" (see also – Mustafa Badr al-Din).
According to investigations, the two Lebanese nationals arrived in Baku from Tehran at the outset of 2008 using Iranian passports. According to the newspaper, they stayed in five star hotels and created a cell for the purpose of carrying out the embassy attack.
Ali Karaki, Ali Najmeddine and another Iranian citizen detained in Azerbaijan were released, unexpectedly, on Friday 08/13/2010, and sent back to Iran.  
* Related topics –  
–
*************-N-***************
Read more ;