– JEDDAH U.S COSULATE ATTACK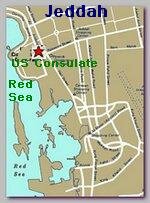 On Monday 12/06/2004 at about 11:00, a car bomb painted with the colors of the Saudi Army, which exploded, attempted to breach into the USA Consulate in Jeddah, a port town on the Red Sea, through the Southern gate of the heavily protected compound. A group of armed men stormed the building through the wreckage, using grenades and automatic weapons, killed a guard and took, briefly, 18 hostages in a section of the consulate. A squad of Marines in the compound prevented the gunmen from any further advance into the building and contained the militants.  
The Saudi Interior Ministry said, at about 15:30, they had overcome the situation. Four hostages, four Saudi security personnel and three of the assailants were killed in the shootout. Two attackers were captured but one of them died later in hospital from his wounds. The USA Embassy in Riyadh, Saudi Arabia's capital, said no Americans were killed or seriously injured.
A Saudi Interior Ministry spokesman said the five were "third-country nationals, expatriates," implying they were not Saudi, although he did not give their nationalities.
A group that claimed responsibility few hours later called itself the Qaeda al Jihad in the Arabian Peninsula also known as Al-Jazeera Lions. The claim of responsibility was posted on several Islamist Web sites often used by Islamic militants.
The group said its fighters "managed to enter one of the crusaders' big castles in the Arabian Peninsula and managed to enter the American consulate in Jeddah, in which they control and run the country."
On 03/16/2005 an audio tape was broadcasted on the web in what appeared to be Saleh al-Oufi's voice. In the tape the voice mentioned Al-Jazeera Lions in Kuwait and the attack on US consulate in Jeddah which was committed on 12/06/2004.
* Related topics –  
–
11/2008 -SAUDIA CLAIMS TO FOIL TERROR PLOT IN 2003 
2003-4 -CLASHES AND ARRESTS IN SAUDIA
*********************************
Read more ;