– DOZENS KILLED IN A DRONE ATTACK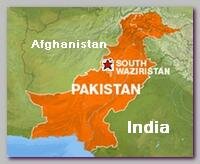 At least 80 people have died in a missile strike by a US UAV in a Taliban stronghold of South Waziristan FATA area of Pakistan, officials there have said on Tuesday 06/23/2009 late night.
The people killed had been attending a funeral for others killed in a US drone strike earlier on Tuesday hit what authorities say was a Taliban training centre run by Qari Hussain. Intelligence officials said at least 80 people had been killed and dozens more injured in the later strike, when two missiles were fired. The region is a stronghold of Pakistani Taliban leader Baitullah Mehsud.
Also on Tuesday, tribal leader Qari Zainuddin, who often criticised Mehsud, was shot dead by a gunman in north-western Pakistan.
The Pakistani army is preparing to launch an offensive against Taliban fighters under Mehsud's command, who are blamed for a number of deadly attacks.
There have reportedly been more than 20 US drone attacks against targets in Pakistan so far this year, although Tuesday's strikes are the deadliest to date.
Since the missile attack was carried on people attending a funeral we must to assume that many of the casualties were uninvolved civilians and not necessarily miulitant fighters.
According to rumors Baitullah Mehsud himself attended the funeral and was, most likely, the target of the bloody attack, if so he escaped unharmed the bloodshed.   
* Related topics – 
–
06/2009 -HOSTAGE DAVID ROHDE ESCAPED TALIBAN 
06/2009 -PAKISTAN AFTER BAITULLAH  MEHSUD  
06/2009 -MEHSUD FACES OPPOSITION FROM TALIBAN
*************-N-****************
Read more ;