– AL-FARRAJ & AL-TASHOUD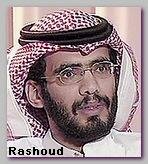 Riyadh – Five members of Saudi security forces and a sixth man were killed in a raid in Riyadh, on 01/29/2004, on a building located between the Assada and Fayha'a neighborhoods. The police arrested Khalid al-Farraj (pic) while his father was killed and other suspects in the building managed to escape. Officials said explosives and plans for terrorist attacks in Saudi Arabia were found in the house.
On 09/22/2004 Saudi TV broadcasted an interview, entitled "Special Facts From Within the Cell", with Khalid al-Farraj, another militant Abdul Rahman al-Rashoud, a cousin of Abdullah al-Rashoud, one of the most wanted terrorists, and a teenager identified only as Abu Assem, 18. No details were given as where and when Abdul Rahman al-Rashoud was arrested.
Khaled al-Farraj spoke about Al- Qaeda?s plan to raid a housing compound, probably reffering to the Al-Muhaya Bombings. "They bought a GMC for the operation, and it was the same car that was reported by the police", he said adding that Abdul Aziz Muqrin helped in filling the vehicle with explosives. Abdul Aziz al-Mudaihesh carried out the operation.
Abdul Rahman al-Rashoud said Al-Qaeda had two military objectives, one declared and the other secret. The first was to hit targets portrayed as ?crusader centers? in Saudi Arabia. Abdul Rahman al-Rashoud said he himself became a member of the cell after renting a house and purchasing a car for the organization in his name. He said there was a three-member panel in Al Qaeda apparatus in Saudi Arabia responsible for forging documents and IDs. Forged documents are used to rent houses and buy cars.
Abu Assem, 18, who also appeared on the program said he had joined the cell after a classmate asked him "to gather intelligence about an officer in the secret police, because they torture the mujahedeen in prison."
* Related topics –
–
PROFILE -AHMAD IBN ABDULLAH AL-SHAYIE
2003-4 – LASHES AND ARRESTS IN SAUDI ARABIA  
11/2003 -AL-MUHAYA  AFTERMATH
************************
Read more ;