– JAKART HOTELS BOMBING INVESTIGATIO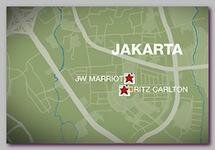 * Police confirmed, on Friday 07/17/2009 at about 10:00 local time, that the two Jakarta Hotels Bombing were caused by suicide bombers. Police also said another, unexploded, bomb had also been found at the Marriott hotel. Nanan Soekarna, a police spokesman, said that the devices were packed with nails, ball bearings, nuts and bolts.
* Presidential adviser Djali Yusuf told the AFP news agency that the unexploded bomb had been found in what he called the "control centre" of the attacks – room 1808 in the Marriott – where a laptop and other explosives material was discovered, which suggests that at least one of the attackers or their operators was a guest in the hotel the night before the attack. 
*National Police Chief Gen. Bambang Hendarso said at a news conference in the evening that a suicide bomber blew himself up in the Marriott hotel lobby-level restaurant, where 19 businessmen were meeting, on Friday 07/17/2009 at about 07:30, was, indeed, guest of the hotel. The bombers had checked in to the Marriott as paying guests, on Wednesday 07/15/2009, and had assembled the bombs in his room. A third bomb was found and defused in a laptop computer bag on the 18th floor.
A second suicide bomber detonated his suitcase in the lobby of the near by Ritz-Carlton's Air Langga restaurant five minutes later. The two luxury hotels are connected by an underground tunnel.
* Indonesian anti-terror chief Ansyaad Mbai said, on Saturday 07/18/2009, they have "strong indications" the key wanted fugitive, Noordin Mohammed Top, was behind the bombings. Indonesian intelligence sources believe that Noordin Mohammed Top is running recently a terror group of his own – Tanzim Qaedat al-Jihad ( Jihad's Organization Headquarter). Actually the police were actively looking for Noordin Mohammed Top just last week at an Islamic boarding school in Cilacap in Central Java, where they found explosives identical to those used in the Jakarta hotels bombings. Officials also said a woman, Ariana Rahma, reported to be his wife, was arrested.
* According to the Indonesian police, on Sunday 07/18/2009, one plotter was, probably, identified as Nur Hasbi, "He checked into room 180A and was caught on CCTV camera just before the bomb went off." The sources claimed.
Local media said Nur Hasbi, alias Nurdin Aziz or Nur Sahid, from Temanggung, Central Java, was a former student at an al-Mukmin Muslim boarding school, the same school class as Asmar Latin Sani, linked to the INDONESIAN JI terror network and run by the radical cleric Abu Bakar Bashir. Nur Hasbi graduated the school in 1995. Nur Hasbi paid $US1400 on Wednesday 07/15/2009, to check into Room 1808 at the Marriott for two nights, using a fake identity card of Nurdin Aziz. Nur Hasbi was associated with Noordin from late 2005 onwards and "has, in fact, been sought by police since 2006. 

* Indonesian police said

, on Wednesday 07/22/2009, that

DNA samples taken from the families of two suspected suicide bomber do not match the remains found at the scenes of last Friday's deadly Jakarta blasts thought to be of

Nur Hasbi, who is still wanted for questioning,

or the florist named Ibrohim, originally from Cirebon, West Java, who worked as a florist in the hotel and has been missing from the Ritz-Carlton hotel since. The identity of the two suicide bombers remained a mystery.

 

The police released, 
therefore, digital images of the reconstructed faces of two suspected suicide bombers in an attempt to identify them. 
* On Thursday 08/07/2009,  police arrested in a house in Bekasi, outside Jakarta.  three suspected militants, including Amir Abdillah, who allegedly booked the Marriott hotel room used by the bombers in the days before the attacks.
* Noordin  Mohammed Top narrowly escaped death, on Friday 08/08/2009 night, in a shootout (see –  Top's death). Eventually the killed man was identified as the fugitive Ibrohim – the florist from Ritz-Carlton Hotel. "Ibrohim was a planner who was always present in the meetings with Noordin Top," police spokesman Nanan Soekarna told a news conference, on Wednesday 08/12/2009. 

* On Tuesday 08/25/2009 the Indonesian police arrested the son of Abu-Jibril – Mohammad Jibril, 29, alias Muhammad Ricky Ardhan

,

for being involved in the Jakarta Hotels Bombing, on 07/17/2009. Mohammad Jibril, an owner of a web site in which he named himself "prince of Jihad", is said to have been an accomplice of Saudi Arabian national Ali Muhammad Abdullah, who was arrested, on 08/13/2009, for allegedly channeling foreign funds into Indonesia for the twin bombings.
* Two more suspects were killed in Jakarta, on Friday 10/09/2009, in a police raid (see – Zuhri – Syahrir ).
* Related topics – 
10/2008 -PLOT TO BLOW UP INDONESIAN FUEL SEPOT FOILED
*******************
Read more ; 
THE AUSTRALIAN