– PEACE WITH TALIBAN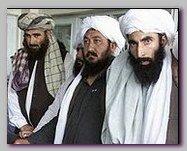 Hamid Karzai, Afghanistan's President, called repeatedly the Taliban to join his regime and offered them a share in power. Hamid Karzai knows that there will be no peace and stability in Afghanistan without the Pashtu tribes represented by the Taliban alliance. He also fully understands that he must respect local traditions and Taliban values if he is looking for any sort of reconciliation.  
After 27 killed in a suicide attack on an Afghan military bus on the outskirts of Kabul, 09/29/2007, Afghan President Hamid Karzai said that he wished he could contact Taliban leader Mullah Omar and another insurgency leader – Gulbuddin Hekmatyar to ask why they were trying to destroy Afghanistan (see – Karzai's offer).
In his last peace offer, in 11/2008, Hamid Karzai said – "If I am removed in the cause of peace for Afghanistan by force by them (NATO-ISAF and USA), than I will be very happy" responding to USA, UK and NATO-ISAF pressure not to offer peace to Taliban (see – Karzai's Peace offer).
In both cases Taliban rejected categorically the offers and said there will be no peace talks while foreign troops are in Afghanistan. Only full and complete withdrawal of USA and NATO-ISAF from Afghanistan can pave the way to peace, according to Taliban.
Top American and British officials who justified the war in Afghanistan as aimed to uproot the Taliban from Afghanistan, have recently and far too late, called for the inclusion of Taliban fighters who renounce extremism in Afghanistan's political life.
Richard Holbrooke, the US envoy to the region, told the BBC, on Monday 07/27/2009, the integration of such people had been neglected. He claimed Taliban were "under intense pressure", with their funding sources seriously undermined. But the US envoy to Afghanistan and Pakistan said a new priority was bringing more Taliban fighters into the political process.
Richard Holbrooke echoed the words of David Miliband, speaking at NATO headquarters in Brussels. The Afghan government had to develop "effective grass-roots initiatives to offer an alternative to fight or flight to the foot soldiers of the insurgency", he said. UK Foreign Secretary David Miliband said including moderate Taliban members in dialogue could help stability.
"If they repent and regret and announce that publicly, then for the sake of peace… I'll be very much willing to talk to them," Hamid Karzai, the leading candidate ahead of the 20 August presidential election in Afghanistan, repeated.
A Taliban spokesman, Qari Yousef Ahmadi, rejected such talks, saying the militants would not discuss a cease-fire with any government that was a "servant of the foreigners." He urged Afghans not to take part in next month's election.
In a separate development, the Afghan government says the Taliban have agreed a ceasefire in an insurgent-held area to allow polls to take place smoothly there.
A presidential spokesman said the deal applied to the North-Western province of Badghis. The report is clearly unreliable since Badghis province is one of the calmest provinces of Afghanistan, almost out of reach to the Taliban, who are based in the South and East of Afghanistan. A spokesman for the Taliban later denied that a deal was placed.
Indeed all the signs indicate that it is not the Taliban but NATO-ISAF, led by USA, which are under immense pressure to show some progress and to reach a breakthrough in the DEAD-END in Afghanistan (see – Europe Commitment). The Taliban are living there all the time as a coherent part of the population. They can wait as long as it takes.  
* Read more – 
–
07/2009 -MALALAI JOYA – THE AFGHAN VOICE 
07/2009 -OVER THE HORIZON   
*************A**************
Read more ;